If you want an exciting and fun vacation activity, there is no better choice than a dune buggy rental Dubai. This adventure is perfect for those who like doing daring things and driving cars at high speeds. Dubai's vast and uncharted desert provides the ideal location for these rides; you can go as fast as you want without traffic rules or speed limits if you are a seasonal expert.  
Several fascinating attractions attract visitors' attention, allowing them to forget about their daily worries. If you have not made any plans yet, do so now and experience this once-in-a-lifetime experience. As a professional Dune Buggy Rental Dubai company, we offer the perfect way to enjoy this thrilling experience safely and comfortably. 
If you are planning for a dune buggy tour in the future, read this article until the end. Today we will discuss everything to know regarding the dune buggy ride in Dubai, including safety tips and top places to enjoy the tour to the fullest.
What is Dune Buggy Dubai Ride?
With the world's largest sand masses, Dubai has become an excellent spot for dune buggy rides which are self-drive guided tours. With power engines starting from 840cc and going up to 2000cc, the dune buggies are jaw-droopingly powerful vehicles that you can ride to traverse the vast landscape of deserts at high speeds. 
These vehicles are specially designed with oversized tires for driving on the rough and uneven terrain of the desert. They come with built-in roll cages and several other safety gear to ensure the personal protection of the rider. 

Today, numerous tour operators offer dune buggy rental services to tourists and locals so they can enjoy and have fun on their vacations. If you want to rent a dune buggy for your desert trip, contact us at Enduro Bike Adventure and confirm your early booking.
What Makes Dune Buggy Rental in Dubai an Exciting Experience?
The following are some reasons why you must try the dune buggy Dubai ride with us for your vacations:
Get Ready for The Thrill of a Lifetime
Riding through the dunes of Dubai in a dune buggy provides an exhilarating sensation. When you drive at high speeds on uneven dunes and navigate at sharp turns, the desert scenery you observe along the way is something quite memorable that wants you to keep going and not stop.   
Several rental companies in Dubai cater to beginners and experienced riders, making renting a dune buggy easy. Furthermore, various dune buggies are available to suit your preferences and abilities. Whether traveling alone or in a group, or you are a beginner or an expert, there is a dune buggy option to suit your needs. 
It's Suitable For All Ages Regardless of Experience: 
Riding a dune buggy does not require any prior experience. At Enduro Bike Adventure, you will receive comprehensive training lessons on riding a dune buggy for your trip if you are a newbie and safety instructions. Our guides will also stay in touch with you throughout the ride if you need help or if some fault develops in the buggy. 
It's Very Safe and Convenient
Dune buggy rides are safe and secure. The dune buggy has several safety features, like handlebars and oversized tires, so you can easily drive it on sandy terrain. Further, your guide will provide you with essential safety equipment and gear for the ride, such as helmets to protect your head and goggles to protect your eyes. You will also receive safety instructions regarding the speed limit and route selection that you must to remain safe. 
Explore the Culture and Traditions of the Arabian Peninsula
Compared to boring museum tours, dune buggy tours are considerably more entertaining. Your buggy ride provides you with an excellent opportunity to gain a greater understanding of Arabic culture and history. Like how Bedouin people used to live in old times in the deserts, how they liked to travel, and how their economy worked. Learning this cultural and historical information enriches your mind and makes the tour more exciting.  
If your job has overburdened you or you have been stressed out due to personal reasons, planning a vacation on a dune buggy Dubai tour should alleviate all your worries. The thrill of riding on uneven dunes, having fun with your family, and taking outstanding photographs will take your worries away and rejuvenate you.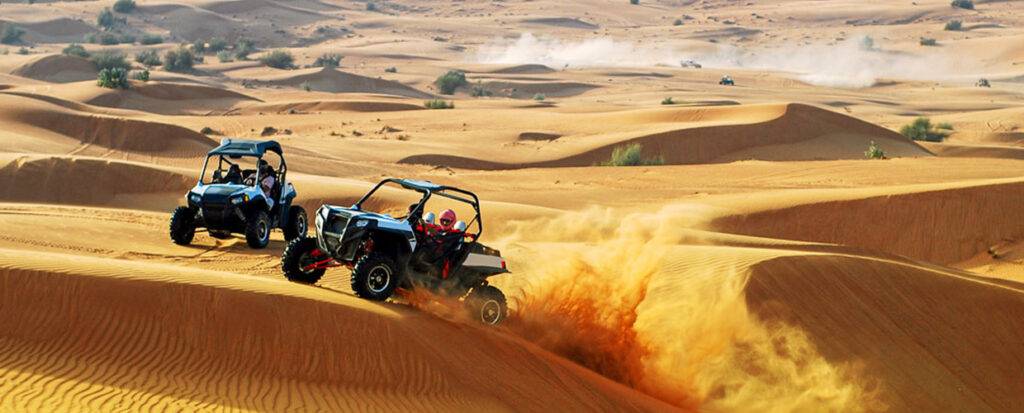 Top Attractions To Visit For Dune Buggy Rental in Dubai Ride
Following are some top places to visit in Dubai on a dune buggy tour.
Conservatory of the Dubai Desert
Located within Dubai's extensive Desert Conservation Reserve, this area embodies the beauty of Dubai's natural environment. Take a dune buggy out to this conservation reserve and experience the diversity of wildlife, and remember to click some memorable pictures. 
Due to its deep red colour, this large dune is called the "Red Dune." The spot is 45 minutes from Dubai along the Hatta/Oman highway (E44). It is a popular destination among desert enthusiasts due to its various activities and spectacular sights.
This spot is a favorite among dune riders and photographers with its rugged rock formations. A famous rock formation resembles a camel lying in the sand and includes marine fossils from millions of years ago. Its location is approximately 50 minutes from Dubai on the Sharjah/Kalba road.
If you want to venture into a peaceful location and enjoy the natural scenery of desert palm trees, drive to the beautiful Al Qudra Lakes. You can also watch different bird species while driving through the peaceful lakes in a dune buggy.
Al Qudra Lake is in Dubai's Al Qudra Road (D63) area. 
Al Faya Desert is a great choice for desert adventure seekers who want to traverse larger dunes. Its location is down the Sharjah- Kalba road (E55), approximately 50 minutes from Dubai, and in a secluded area away from the noise and bustle of city life.
Important Safety Tips For Dune Buggy Rides
While dune buggy rides are full of adventure and excitement, they can be dangerous if you don't take appropriate safety measures. You must remember four important safety tips before you embark on your dune buggy trip.  
Wear Helmets All The Time While on The Ride
Wearing helmets while riding can be irritating but essential for your safety. Dune buggy rides, along with many twists and turns, can be very bumpy. This bumpy experience may cause a jolt to the body that might cause discomfort. To avoid this, you should always wear a helmet. 
These helmets provide maximum protection using high-quality materials. At Enduro Bike Adventure, we never compromise security and always provide our guests with helmets and other safety gear for their rides. If you don't get one, remember to ask our guide to provide one. 
Don't Get Too Close to Other Drivers
You'll likely meet other drivers in the desert who want to enjoy the tour as much as you want to. Remember to keep a reasonable distance from them while driving for your safety and theirs. 
Beware of your surroundings and if you get too close to other drivers, slow down your buggy to avoid mishaps. Also, refrain from engaging in a racing competition; the uneven desert terrain is unsuitable for such activities. 
Drive Your Dune Buggy at Safe Speed
We understand that driving dune buggies at high speed is fun and exciting, and you should only try it if you are a seasonal expert and have been on tour several times. Those who are new should drive their buggy at a safe speed to ensure their safety. 
That's why you can ask our tour guide regarding a safe speed limit before you start the buggy.  
Keep your body hydrated and drink plenty of water on the dune buggy ride. The journey can be exhausting since the desert's weather is hot and humid, and Dubai is known for its high unbearable temperatures. Keep a water bottle and drink at regular intervals. 
The perfect way to explore the breathtaking desert landscapes by Dune Buggy Rental Dubai. A thrilling ride through steep dunes and viewing the stunning desert will leave you with unforgettable memories. 
If you have not yet planned for the trip, then do now; contact With Enduro Bike Advanture Team and book a tour. We offer various packages to accommodate all customers and fulfill their requirements. If you have any questions, call our helpline, and our operator will gladly answer all your queries.