Nothing is more thrilling and delightful than riding a dune buggy rental Dubai. There is a good reason why this activity is becoming so popular among adventure lovers! Incorporating the adrenaline rush of off-road dune buggies with the excitement of desert exploration provides a unique combination of exposure to culture, beauty, and fun. If you are daring and want to try something new, then dune buggy Dubai is necessary.
What makes the dune buggy ride so exciting, and what more should you know about it before booking it, and how to make it more enjoyable and safe lets find out today.  
Why is Dune Buggy Rental in Dubai an Exciting Experience?
The desert landscapes of Dubai are remarkable, with vast expanses of golden sand extending endlessly into the distance. The dune buggy rental in Dubai offers visitors a unique opportunity to immerse themselves in this beautiful environment and experience the raw beauty of the desert. With shifting sands and light play casting a magical glow over the landscape, you'll witness nature's spectacle as you traverse the dunes.
Here are a few reasons why it is an exciting experience:
Dune buggies are designed to handle rugged terrains and dunes. The Dubai desert creates an ideal playground for off-road enthusiasts. The thrill of riding over the undulating dunes, navigating through twists and turns, and climbing up and down steep slopes adds an element of excitement to the experience.
The Dubai desert landscape is stunning. As you ride the dune buggy, you'll witness breathtaking panoramic views of the desert, including mesmerizing sunsets and the unique beauty of the flora and fauna. This stunning scenery creates a truly unforgettable experience.
The Dubai desert has diverse terrain, which includes soft sandy patches, steep dunes, and sharp ridges. Driving through such challenging landscapes requires skill and concentration. The constant manoeuvring and overcoming obstacles add excitement to the dune buggy ride.
Dune buggy rides in Dubai are often done in groups, which adds a social element to the adventure. Sharing the excitement with your friends and family can enhance the overall experience.
6 Things to Know Before Booking a Dune Buggy Ride.
The dune buggy ride sounds like a lot of fun, and after learning from your friends and reading online reviews, you must be eager to book a ride for your next tour, but before you do, here are a few things you must remember.
Unsurprisingly, the internet has become an important part of our lives. If you wish to find deals or get an online quote from a dune buggy rental company, you can easily do so. Thereby you can easily see the services and hospitality the company offers, including costs, buggy type, tour duration, and everything.
This is very important if you are travelling to Dubai for the first time and have no idea how these things work.
Generally, the duration of a Dubai dune buggy tour varies depending on your package and the company you choose. A good approach is to check with the rental company in advance to understand the rental periods, rates, and extra services the company may offer, such as pick-up and drop-off.
At Enduro Bike Advanture we have packages for 1,2 and 4 hours to fulfil our customers' requirements. For beginners trying the ride for the first time, 1 hour package is best, and for adventurous persons who have done this activity several times, 4 hours is best.
Driver License Requirements
A valid driver's license is typically required to operate a dune buggy rental Dubai. Moreover, some companies may impose a minimum age requirement or limit the number of passengers permitted in the dune buggy. When making your reservation, asking about these requirements is a good idea so you won't be surprised.
Although we don't have any driver licensing requirements, the individual must be 18 years old and have some experience in driving.
Consult with Several Companies to Get Quotes
When you request online quotes about dune buggy rental in Dubai, try to get them from multiple companies rather than just one. Then make a selection of the most suitable package that you deem worthy.
Make sure the package you pick meets your requirements and fits your budget by reviewing all the available packages. To better understand the deal a company offers, look at online reviews on Google and social media accounts to see how people rate the company, then make an informed decision.
If you want the best packages at affordable prices, do get in touch with Enduro Bike Advanture. Our phone support is available 24/7; contact us to discuss your details like how many members you are, how much package duration you require, and the best time for the trip.
We have professionally trained staff to guide you on your tour selection and during the tour. If you don't know how to drive a buggy, our drivers can do it for you, and if you want a pickup from your hotel to the venue, we can arrange a 4×4 land cruiser for your convenience.
Using Your Budget Effectively
Budget is an important consideration when renting a buggy in Dubai. Yes, everyone wants a cheap package that provides all the benefits, but that doesn't mean you should compromise on the quality. Many companies deceive customers by offering cheap packages, but their services are very poor.
Choose our guided dune buggy Dubai package for your trip, and we guarantee you won't be disappointed and will recommend us to your friends as well.
Come to The Venue Earlier Than the Scheduled Time
After confirming your booking try to arrive at the venue earlier than planned. Make sure you arrive 30-45 minutes before the scheduled time to have enough time to relax and listen to the guide's instructions on how to operate the buggy and strap yourself with safety equipment.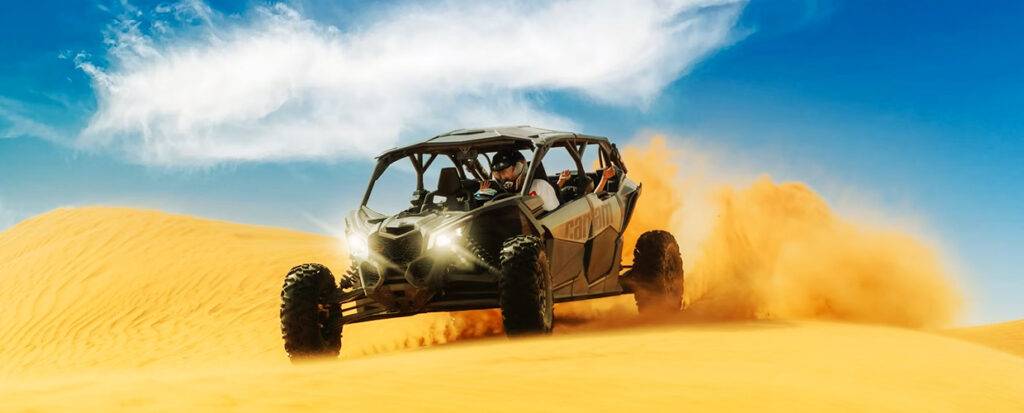 4 Things to Make Your Dune Buggy Adventure Memorable and Safe
Now that you have booked a package, the real fun begins in the field, and to make it memorable and safe, here are 5 things you can do. 
The entire trip will provide you with several opportunities to take photographs. As well as enjoying every moment of the ride, it is essential to take photos and videos to create lasting memories. Those interested in taking pictures will find enough scenery on the dune buggy Dubai ride. While riding, make sure you have your camera ready so that you can capture the visuals.
Ideally, you should wear clothes that cover your entire body. However, Dubai generally adheres to dress codes for men and women. Also, full sleeves protect against harmful UV rays and sand. We recommend wearing glasses and a hat for further protection from sun rays.
Before you embark on your dune buggy Dubai adventure, ensure the rental company provides proper safety instructions and guidelines. For a safe and enjoyable rental experience, wear appropriate safety gear, such as helmets, seatbelts and goggles. 
We provide all the safety equipment to our customers before the ride, so you don't have to worry about it if you choose our package.  
The dune buggy Dubai ride is going to be a bumpy one and will surely make you feel dizzy. Be sure to bring medicine to treat this dizziness. Also, eat in small portions before the ride; otherwise, it may cause your stomach to become upset and make you feel nauseating.
Drink plenty of water since the desert climate will be sweltering, and you don't want to get dehydrated. We will surely provide you with water bottles for your trip, and if you want more, never hesitate to ask. 
Renting a dune buggy in Dubai is an exhilarating way to unleash your inner adventurer. The off-road experience through the vast desert landscape offers a thrilling adventure, allowing you to conquer the challenging terrain and navigate the towering dunes of the sand.
So, if you're seeking excitement and a unique way to explore Dubai's natural wonders, a dune buggy rental is the perfect choice to satisfy your adventurous spirit and create lasting memories. We at Enduro Bike Advanture are at your service, ready to entertain you.