Are you an adventure enthusiast who is interested in tackling challenging tasks? Why don't you try the dune buggy rental Dubai tour for your vacations and enjoy a thrilling and memorable adventure with your beloved ones? A dune buggy is a lightweight vehicle to navigate the uncharted territories of vast deserts of the Gulf and at high speeds through high and low dunes. 
Along the way, you get to see many attractions and desert wildlife that you can photograph on your camera. If you haven't planned the tour, do it now and have an excellent experience. As you prepare for your Dubai dune buggy journey, remember some essential safety tips to make your tour safe and comfortable. Let's read in detail what they are and why they are important.
A Guide to Preparing for a Dune Buggy Tour in Dubai
A dune buggy rental in Dubai can be one of the most thrilling adventures you've ever experienced. As a preparation for this journey, we will explain 18 tips to keep you safe and make your tour comfortable.
Route Selection For Your Dune Buggy Tour
The safari routes and tracks offered in Dubai are diverse. First-time dune buggy users should choose an easy route instead of a difficult one; an easy route is usually the shortest, with less bumpy terrain where you can easily maneuver a buggy without difficulty. However, you might enjoy the most from a challenging route if you are willing to take risks.
Enduro Bike Adventure is the best way to experience the vast deserts of Dubai. As part of our service, we will supply all the necessary equipment and a knowledgeable guide so that you have an enjoyable tour.
Be Sure to Pack Water Bottles
Due to the exhausting nature of dune buggy riding, staying hydrated is also of utmost importance. Therefore, you must consume plenty of water to remain hydrated. Drinking more water will enhance your energy level. As the adventure takes place in Dubai's hot desert climate, you will likely sweat a great deal during the ride. It would be best always to carry a water bottle when you are on the go.
At Enduro Bike Advanture, we will provide plenty of refreshments on the trip as part of our package. There will be plenty of stops on the tour to get refreshments, so remember to keep some spare change of money. If you feel thirsty during the tour, ask our tour guide to provide water.
Avoid Eating Heavy Food Before The Ride
Avoid eating anything heavy before the trip so you don't upset your stomach, which may result in vomiting. Since dune buggy rides are bumpy, having a heavy stomach may make you feel nauseating and ruin your trip, and nobody wants that.
Wear the Appropriate Safety Equipment
Wearing safety gear and appropriate clothing is essential during the tour. First and foremost, the wearer of a helmet should ensure that it properly fits their head without causing any discomfort. Furthermore, consider knee pads if your buggy rolls over in an accident. As a third precaution, you should use sunglasses to protect your eyes from flying dust and to prevent sunlight from entering your eyes.
It is also necessary to wear gloves during the summer months in the Dubai Desert to prevent skin burns caused by the heat. We will provide you with all of the safety equipment for the tour, and you can always inspect it to ensure it fits you properly and has no faults in it. If you want us to replace the equipment, we will gladly do so.
Wear Comfortable Clothing
Always wear appropriate clothing to enjoy your dune buggy Dubai tour safely and comfortably. You must dress accordingly since you are driving in a hot desert climate. We recommend wearing lightweight long-sleeved shirts to protect your arms from harmful sun rays.
You may also wear a bandana to protect your face and mouth from flying sand during the ride. Further, you can wear log-toed shoes to prevent sand from getting on your feet.
Drive Carefully So You Don't Collide With Other Drivers
Another important safety tip is keeping safe from fellow dune buggy riders during your tour. You must understand that you are not the only one who booked the tour. Many others like you will love to go on adventurous and daring trips.
That's why always carefully drive while you are in the field, and if you see other buggies approaching near you, slow down your buggy to avoid any fatal collisions. Desert terrain is rough, and braking a fast-moving buggy might be difficult, but you can easily do it with little practice and patience. Our next tip might help you slow down your buggy easily.
Drive The Buggy at a Safe Speed
To remain safe, driving your dune buggy within the speed limit is very important. A speed limit lets you easily handle your buggy at sharp turns and slow down when needed. You can ask our tour guide for more information if you need to know about the speed limit.
Also, regardless of buggy, any vehicle you drive at a proper speed keeps you safe from injury and accidents.
Follow the Instructions of The Tour Guide
There are irregular tracks in the desert, and it is possible to become lost, so you should closely follow the directions provided by our instructors. We have well-experienced and professional tour guides with more than ten years of experience guiding tourists on dune buggy rides, and they know everything that might happen on tour along with the tour paths, so always follow their guide.
By following their instructions, you can avoid potentially hazardous situations and have a safe and enjoyable adventure.
Protect Your Skin From Harmful Sunrays
To protect yourself from harmful sun rays, bring sunblock for your dune buggy rental Dubai since you will spend several hours in the desert.
Sunscreen lotion is also helpful to protect your skin against ultraviolet rays and prevent sunburn. Apply it throughout the day of your tour.
You should also carry a water bottle as it will be very hot out in the desert, and you may get dehydrated if you are not prepared (we have discussed this already, but mention it again so you remember). A hat and sunglasses also help reduce the sun exposure you receive.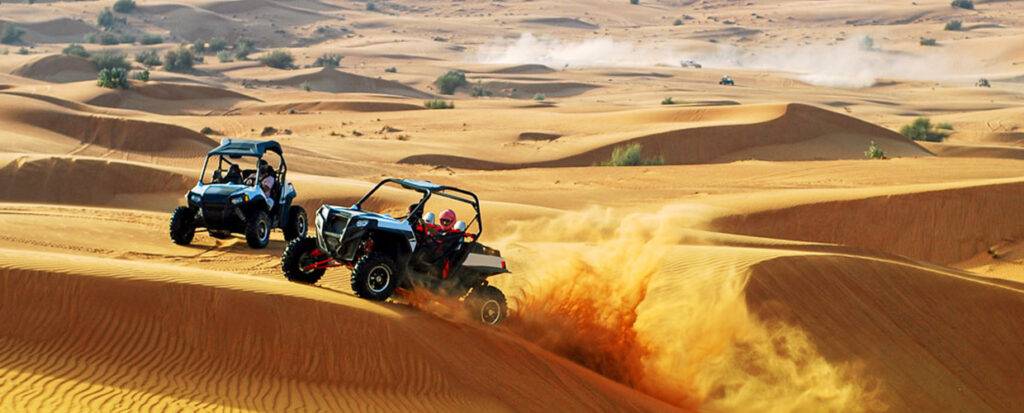 Drive Within Designated Areas of the Desert Route 
Always drive your buggy in the authorized off-road tracks and areas designated for this purpose only. Venturing into restricted or protected areas can have legal consequences and harm the fragile desert ecosystem.
Prepare Yourself Mentally and Physically  
Don't just pack a bag with a few essentials when you embark on an adventure. It would be best if you prepared physically and mentally for the excursion. 
It is essential to read the tour information to know what to expect, what kind of activities you can participate in, what dangers may arise, and what you should avoid. As you plan for a dune buggy Dubai safari, you can expect high temperatures of the desert, high and low dunes, winds that blow sand, and safety precautions you must take to ensure that your tour is enjoyable. 
Ask your friends and relatives who have been on a dune buggy rental Dubai tour about their experience. Listen to their instructions and avoid anything they ask you to. 
Learn How to Drive and Handle Dune Buggy on Sand 
Before starting your adventure, you must know a dune buggy's controls and driving techniques. A few beginner lessons from your tour guide will make your experience much easier.
Make sure the buggy tires are fully inflated. When you ride off-road with tires that are too small or lack sufficient air, you will get stuck and may even break the chain or gear mechanism. It is possible to burst them if they are over-inflated.
Have Your Travel Insurance in Place
Every tourist should make obtaining travel insurance a priority. A trustworthy travel insurance provider in Dubai can assist you with this, or if you are a tourist from another country, you can obtain one before leaving.
Further, you will also get expert advice from travel professionals who have been in this field for a long time. There is a higher level of safety when an insurance policy covers you before you go on a trip. During the journey, a sense of confidence develops regarding whether you will enjoy it. A safety tip like this is also considered essential to the safety process.
Inspect The Dune Buggy For Any Damage Before Starting Your Tour
You must inspect your rental dune buggy for any damage or faulty parts that could result in an accident or mishap. Check the reviews of the rental company to determine if any previous customers had problems with their buggy during the tour that you should be aware of. 
Make sure you test-drive the buggy and notice any strange sounds from the engine. If any peculiar sounds come from the engine, immediately reject that buggy and request a new one. Additionally, ensure that the handlebars are securely mounted, the fuel tank is full, and the breaks are working correctly. After completing this thorough inspection, you may proceed to your dune buggy tour. 
At Enduro Bike Advanture, we always maintain our buggies in top-class condition. Our mechanics ensure that the customers have an uninterrupted tour with no difficulties. You are more than welcome to test the buggy yourself. 
Make Sure You Travel With Someone Else  
Going alone in a desert is undoubtedly one of the most dangerous choices. The desert has a wild nature but also harbors several dangers at every turn. Ensure you do not become one of those individuals who believe they can deal with any situation independently.
For several reasons, you will need someone with you when exploring Dubai Desert Buggy Adventure: 
You likely have no experience with desert trips or even with travel. In this regard, you will require someone to assist in keeping you safe and happy during the journey.
If something were to go wrong out in the middle of nowhere, having one person with experience on hand would be beneficial to ensure no untoward incident occurs.

Choose the Right Time of Year For Dune Buggy Tour
Since the summers in Dubai are sweltering, we advise you to plan your safari trip between November and April if you plan to visit during this time. As for the afternoons, they are generally pleasant during this period. If you are planning the tour in summer remember to protect your body from sun rays and drink plenty of water. 
Be Sure to Keep Some Cash on Hand
Upon arrival at the campsite of the dune buggy safari, you can purchase souvenirs, videos, and photographs from the campsite's official photographers for a small fee. These places are good for finding bargains; you can obtain a favorable price if you negotiate. To do so, you must have some hard cash on hand. 
Book Guided Tours For First-Time Trip
A guided tour is mandatory for your first dune buggy tour. As part of a guided tour, you are accompanied by an experienced staff member who assists you in safely navigating the desert. 
Aside from ensuring everyone follows the same rules, they simplify the adventure for those unfamiliar with it. For more information regarding guided tours, you can click here.
We hope you have a safe and memorable time at your dune buggy rental in Dubai excursion. Follow the 18 tips outlined above to remain safe and avoid any accidents which may harm your tour. 

At Enduro Bike Advanture, we give the utmost importance to the safety of our guests. We provide top-notch safety equipment, vehicles, and safety instructions to ensure everyone remains safe and comes back again for another tour in the future. For early booking and reservation, contact us through the service page.