Dune Buggy Dubai offers an exciting experience that lets you uniquely explore the breathtaking Dubai desert. It is an exciting adventure that combines the thrill of off-road driving with the stunning scenery of the Arabian desert. The joy of driving over the dunes and experiencing the ups and downs of the sandy terrain is a once-in-a-lifetime experience you won't forget.
How Does a Dune Buggy Work? Is it Safe?
Dune buggy are off-road vehicles specially designed to navigate rough and uneven terrain. They are equipped with powerful engines, sturdy suspension, and large, wide tires that provide excellent traction on the sand. They are generally safe when operated under proper guidance, with safety suits and goggles supplied to ensure maximum safety during the ride. Below we have mentioned what you should follow to make yourself safe in Desert Safari Dubai.
Choose a reputable tour company: 

Do your research and choose a company with a good reputation. Check reviews and make sure the company has proper licenses and certifications.

Dress appropriately:

Wear loose, comfortable clothing that covers your skin to protect yourself from the sun and sand. Wear closed-toe shoes to avoid injury from rocks or thorns.

Stay hydrated:

 The desert can be very hot, so drink plenty of water before and during your safari.

Listen to your guide: 

Your guide will have valuable information about the terrain and potential hazards. Follow their instructions, and don't wander off on your own.

Protect your eyes and skin:

Wear sunglasses and sunscreen to protect yourself from the sun's harmful rays.

Only eat a little before the ride:

 Eating less before the ride is recommended, as a bumpy ride can cause discomfort.

Keep your phone charged: 

Make sure your phone is fully charged in an emergency in the Desert Safari Dubai.

By following these tips, you can have a safe and enjoyable Desert Safari experience in Dubai.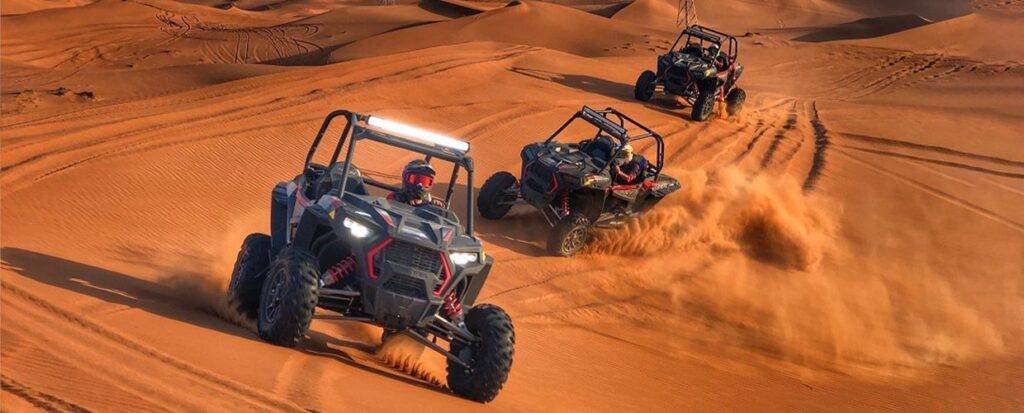 Explore the Dubai Desert on a Dune Buggy?
You can explore the Dubai desert on a dune buggy in groups or solo. Group tours are ideal for those who want to share the experience with friends or family, while solo tours offer a more personalized experience. Our experienced guides will take you through the desert, providing information about the surroundings and the local culture. You can also take in stunning views and capture memorable photos.
Why Book us for Dubai Desert Tour?
Booking Enduro Bike Advanture allows you to experience the beauty of the Arabian desert uniquely and thrillingly. Our team of experienced and certified guides ensures a safe and enjoyable ride with all the necessary safety measures in place. We also offer various packages catering to different preferences and budgets, making choosing the perfect experience easy.
Which Dune Buggies Experience is Best For you?
Desert Dune Buggy Dubai offers a variety of dune buggy experiences, each catering to different preferences and group sizes. These include:
Solo Dune buggy

Duo Dune buggy

Family Dune buggy
The Buggy trail and adventure is perfect for thrill-seekers who want to experience the excitement of off-roading in the Dubai desert. The Solo Dune buggy is great for those who want a more personalized experience, while the Duo Dune buggy is perfect for couples or friends who want to share the adventure. The Family Dune buggy is ideal for families with children, with 4-seater and 6-seater options available to accommodate different group sizes.