Everyone knows that Dubai is ranked as the top tourist destination, and every year millions of tourists come here for their vacations. Buildings and modern facilities dominate one side of Dubai, while the other shows a vast and uncharted desert ready to be conquered. What better way to conquer the desert than going on a dune buggy rental Dubai adventure? The city offers many attractions, but a dune buggy ride is something else, and everyone visiting Dubai should try it. 
These rides are done in special vehicles called dune buggies that you can easily drive on sand and rough surfaces. They are lightweight and have large tires for this purpose. Regular cars or bikes we drive on the road are unsuitable for desert expeditions. Today we will discuss different types of dune buggies you can book in Dubai and what is unique about each of these buggies. So without further ado, let's get started. 
The Popularity of Dune Buggy in The UAE
The dune buggy Dubai expeditions have become increasingly popular recently—especially for those interested in adventurous sports and daring things. Like other sports adventures such as mountain climbing, paragliding, sea surfing, etc., dune buggy rides fall in the same category.
Other than that, Dubai is surrounded by deserts which are the perfect playground for these activities. So if you are in Dubai, book a tour with Enduro Bike Advanture and go for a memorable trip with family and friends.
A Checklist of Essential Components for a Dune Buggy
Before we move on to the dune buggy types, let's discuss some of the essential components that must have in these vehicles. 
Frame and chassis provide essential support for all the other components of the dune buggy. These must be lightweight so they can easily withstand the harsh conditions of desert surfaces since the ride is bumpy due to the uneven dunes of the desert.  
The suspension system is essential in absorbing impacts and providing stability when riding over the uneven terrain of the desert. As mentioned already, desert surfaces can get very bumpy. So to enjoy a smooth and comfortable ride, an advanced suspension system is a must.

Dune buggies need powerful engines with a power of up to 2000cc. To climb the high dunes and ride over sand, transmission, and engine work together to drive dune buggies. 
Dune buggies need special tires that provide excellent traction and flotation on the soft desert sands. These tires usually have wide, knobby treads and are lightweight.
Dune bugging requires a high level of safety. A dune buggy should include Several safety features, including roll cages, harnesses, and helmets.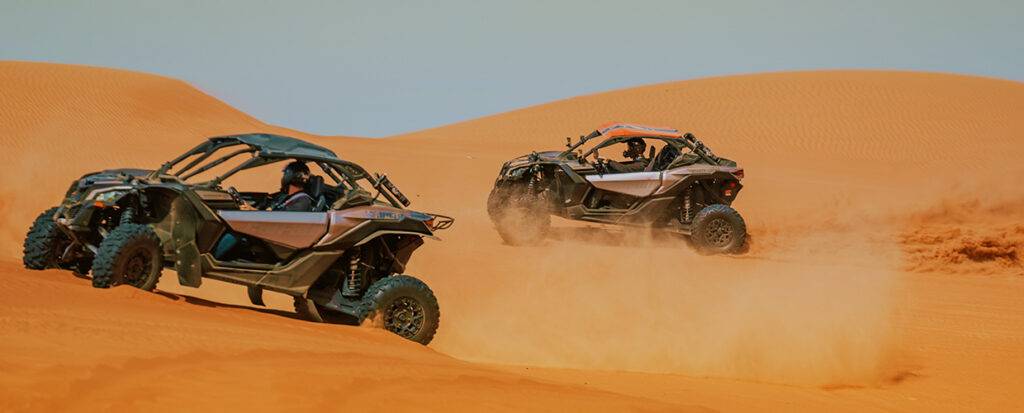 Types of Dune Buggies in Dubai
The Dubai desert safari uses a variety of types of dune buggies. It is possible to find them in various sizes, shapes, and designs.
Most dune buggy rental Dubai are four-wheeled, but tri-wheelers are also available. At Enduro Bike Advanture you get all the latest models of 2024 and safety features so you can enjoy your ride safely and comfortably.
A person like you is adventurous and thrill-seeking and enjoys facing danger. For action-seeking individuals, a single-seat dune buggy is the ideal vehicle. These vehicles are available from several travel companies for dune bashing in Dubai.
The AEON corporation manufactures vehicles and automobiles and provides several models of single-seat dune buggies for desert excursions.
The AEON dune buggy is equipped with electronic power steering and a single seat. Low-pressure tires make this vehicle capable of moving over any surface. This dune buggy type is popular in Dubai due to its style and strength.

The Polaris Corporation also manufactures dune buggies. A Polaris RS1 is a one-seat dune buggy with 1,000 cubic centimeters of displacement.
Off-road enthusiasts enjoy playing around in this buggy along the red dunes of Dubai. To climb any large dunes in UAE, Polaris RS1 has two DOHC engines with twin cylinders and electronic fuel injection. With sufficient power, it can climb any big dune in the region.
For those who enjoy traveling alone, this one-seater dune buggy is ideal for desert adventures with full safety features.
One ride may cost you a considerable amount of money. What could be better than fulfilling your desires if you can do so?
It is possible to take two passengers in a quad-wheel motor vehicle. In the Dubai desert, a double-seater dune buggy can open its roof to provide an open-air experience.
Dune buggies like these are automatic. These are all-terrain runners that come with powerful engines.
2-seater Polaris RZR 1000 Turbo S Buggy
The Polaris RZR XP 1000 is arguably among the most powerful two-seat dune buggy models in the Dubai desert.
With the RZR XP 1000, you'll encounter the perfect power, suspension, and maneuverability combination in a chassis that gives you high control and confidence.
2-Seater CAN-AM Buggy Dubai
The thrilling 2-seater Rapid Can-Am Maverick Turbo is the perfect vehicle for exploring desert sands. The X3 RS Turbo buggy is among the most powerful vehicles in the Dubai desert. It features a 900 cc turbocharged triple-cylinder engine with a power output of 200 horsepower and an efficiency rating of ACE.
It's amazing how well this buggy suspension systems are. A dune buggy from Can-am is one of the most popular today. Their vehicles provide a fantastic experience for beginners and experts alike.

For a dune buggy rental Dubai, there is also a four-wheeled dune buggy with three seats that tourists can use for their adventures. With your group, enjoy a ride in this open-air, powerful, and stylish buggy across the desert. It is an easy vehicle to drive. As a passenger, you can enjoy the desert safari while the driver is in charge of the carriage, or you may drive the dune buggy yourself. It is also a good idea to take photographs of the desert with your friends.
The advantage of three-seated dune buggies is that they can transport luggage in the desert of Dubai. As the name suggests, only three passengers can ride the buggy at a time.
A four-seater dune buggy is fully automatic so that you can enjoy a desert ride. A strong body and robust engine are the main features of the vehicle.
The development of four-seater vehicles is a step beyond the one, two, and three-seater buggy.
You can rent a dune buggy for an affordable price for four people.
Sharing the carriage with other passengers is also possible to reduce expenses. This will be an economical and cost-effective method of off-road travel.
4-Seater Polaris RZR Pro R SxS
The 4-seater buggy by Polaris Turbo is the main specialty of Enduro Bike Advanture. The Pro RZR E SxS has a 999cc, eight-valve parallel-twin engine naturally aspirated with 110 horsepower. As a result of its 71-foot pounds of torque, the ProStar twin propels the buggy at speeds up to 125 kph.
4- Seater Rapid Raid CAN-AM Maverick Turbo
The rapid Can-Am Maverick provides high performance with no compromises: The 4-seat Maverick X3 MAX DS offers next-generation mobility and capability. It comes with a 200 Horsepower Rotax ACE Turbo RR engine, which can take up to 200 kph. Remember, only experts and seasonal drivers can handle this vehicle; it is not suitable for beginners.
All safety measures are included with these dune buggies for a safe ride off-road. You can order the buggies without a roof or a covered roof. It is up to you to make the decision. Call us today at the mentioned phone number on Whatsapp to book a dune buggy rental Dubai tour or any queries related to dune buggy models you like for the tour.