While in Dubai as a visitor, you can engage in several adventurous and thrilling activities, and the dune buggy rental Dubai tour tops the list. This tour offers a unique blend of exploration and fun into the heart of one of the biggest desert areas in the world.  
Go along with your friends and family members for a wonderful time and to create memorable moments. Embrace your sense of adventure and learn how to control a buggy on the challenging desert terrain that will jolt those trying it for the first time. 
Interested in finding out more about the Dune Buggy Dubai ride? Well, continue reading this guide and prepare for the fun you are about to have.
What Are Dune Buggy Rides?
Dune buggy rides are off-road adventures where you ride in special vehicles called dune buggies in the desert area. Since a vast desert surrounds Dubai, it provides the perfect playground for such activities.
Those who want to try something daring and challenging participate in such activities to explore desert terrain, which is impossible in a typical car.
Dune Buggies are completely safe to ride, and even a novice rider can drive them after a little practice and a beginner lesson. Enduro Bike Advanture provides such lessons free of cost for those who want to learn dune buggy riding and experience something different on their vacation. So check our packages and contact us if you require a lesson for your first ride.
Why Should You Try the Dune Buggy Dubai Tour?
Dune buggy riding in Dubai offers the perfect adventure for thrill seekers. With its sandy desert terrain, Dubai is ideal for dune buggy riding. There are many benefits to dune buggy riding, including the following:
It is a Great Way to Explore the Dubai Desert
Dune Buggy Riding offers the best way to explore the desert region of Dubai and see the city's natural beauty. One must get tired of continuously seeing the sights of buildings and the crowded rush of people bumping into one another.
A dune buggy rental Dubai provides a much-needed break from city life and a chance to see and relax in nature.

It is an Adrenaline-Pumping Activity
Those interested in something daring that gets their heart racing with excitement should try a dune buggy ride. Take these vehicles on the challenging desert region and climb tall dunes, making sharp turns at 130 km/h.
Fun Way for Friends and Family to Bond
Dune buggy rides are family-friendly; you can take your kids along to spend quality time with them. If you have not been on a family vacation for a long time, then a dune buggy tour in the desert is perfect to make up for all the time.
Provide Safety and Comfort
Dune Buggies are safe to ride and drive in. They come equipped with the latest safety features to protect the driver in case of an accident. It has roll cages that prevent the rolling over of vehicles, seat belts to fasten yourself to the buggy, and large tires for better stability on the ground.
Further, your tour company will provide helmets and goggles you must wear during the ride.
Are Easily Affordable and Available
Due to the recent popularity of dune buggy Dubai rides, countless tour operators offer these vehicles for rental purposes. You can easily get a dune buggy rental from a rental company through an online booking process on the day and time of your desire.
Talking about booking, let's discuss how to rent a tour and what should we do to prepare for such an awesome adventure.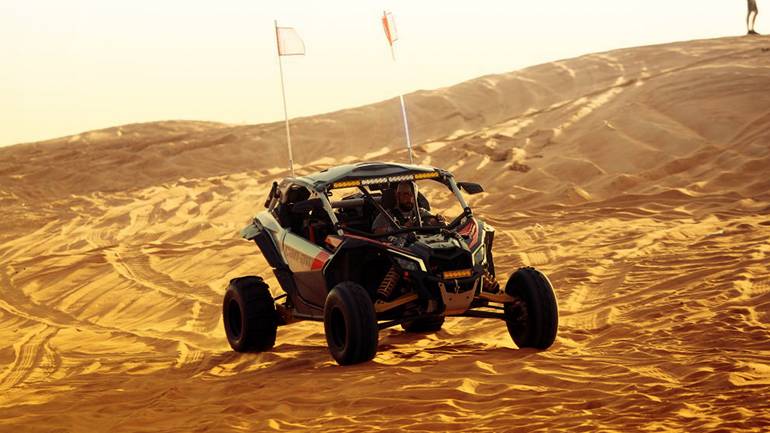 Important Tips for Beginners To Prepare For Dune Buggy Rides
The following are helpful tips that a new rider must follow to enjoy the tour and remain safe. 
Finding the Right Tour Operator
The safety and enjoyment of a Dune Buggy tour in Dubai depends on thorough research and selecting a reputable tour operator. You can find out about a tour company's quality by reading previous customer reviews. You can easily read these reviews on Google and the company website. Further, ask someone close to you who has been on a dune buggy rental Dubai tour to see their suggestions for tour operators.  
If you decide on from whom you want to book the tour, you must further ensure that their Dune Buggies are well maintained, that their guides are knowledgeable and experienced, and that they adhere strictly to all safety guidelines.
Compare the various tour operators' prices, schedules, and packages. This way, you can find the best fit for your needs and budget.
Always book a dune buggy tour well in advance, at least a week or 10 days before. Further early bookings can help you get the best deals at low prices, which might shoot up later when the demand rises. 
If the tour operator has openings, ask them what their preferred dates are and whether they have any other requirements. Also, read their privacy policy along with terms and conditions on cancellation and refund, which you might need if an emergency arises. 
You must follow their instructions and provide them with the required information to complete the reservation. Confirming your reservation early will ensure you will not miss out on this wonderful experience. 
Getting Ready for The Ride  
If adequately prepared, you will have a better experience with the Dune Buggy tour. For ease of movement, choose loose-fitting, comfortable clothing. However, we recommend wearing full-sleeve clothes that don't expose your skin to harmful sun rays. 
Talking about the sun, remember to include essential items such as sunglasses and a hat for protection from the sun and sand, sunscreen for protection from the sun, closed-toe shoes for safety, and a camera for recording your experiences.
Staying hydrated throughout the journey is also essential, so pack plenty of water and snacks. There will be plenty of stops and breaks on the tour where you can refill your water bottles and eat the snacks you bought. 
Arrival At The Campsite For Tour 
The tour happens outside the city limits and in the desert area, so you must arrive at the tour location at your own expense. However, if you book a tour with Enduro Bike Advanture, we provide pick-and-drop service as part of the package, and you don't have to worry about arriving and leaving the destination on your own. 
Once you arrive at the campsite, the staff will warmly welcome you and debrief you about dune buggy rides and safety guidelines that you abide by. If you are trying for the first time, you must carefully listen to this debriefing because the guides will further teach you about driving and controlling the buggy. 
The tour operator will provide you with safety equipment you must wear before the ride and keep them on throughout the tour. As mentioned, this equipment consists of helmets, goggles, gloves, and knee pads. Please make sure the equipment fits you properly and is not too loose or tight. 
Although you have chosen the tour company based on its reputation and other customer reviews, we suggest you properly check the buggy before hopping in. Check if it starts properly, does not make any noise when starting, roll cages are fitted properly, and seat belts are not worn out. 
Take Buggy For a Test Drive
Prior to starting the actual tour, it is common practice to take your dune buggy for a practice ride and become familiar with its control. There are special designated areas for practice driving that are open, wide, and without any difficult terrain. 
Ask your tour guide if you are confused about driving and seek their guidance. 
The real adventure begins when you feel confident about driving and have mastered buggy controls. Take your vehicle out in the main terrain and enjoy as you ride through the dunes and feel a sense of freedom. Keep a safe distance between your buggy and other vehicles in the desert, and drive a safe speed limit you were briefed earlier. Stay alert to your surroundings. 
As you maneuver through the dunes, you will be surrounded by stunning desert scenery. Take your buggy to the highest dune and see the desert down below, which will surely be breathtaking. 
Capture such sceneries on your camera and record videos of the memorable moments you spend here. Eat some snacks along the way as you continue your tour. 

Don't Drive in the Prohibited Areas 
Remember to drive on the designated paths your tour guide provides, and don't go elsewhere. In some locations of Dubai, there are protected areas where endangered wildlife animals live, and any outside visitors are not allowed to enter such areas that might harm these animals. So if you see any sign board in these areas, don't enter. 
After you are done with your dune buggy tour, you will have to return to the point when the tour began. Take off your safety equipment and return to your tour operator. Debriefing sessions provide valuable opportunities for interaction, ensuring that the tour operator receives feedback and continues to improve its services. Please feel free to express your thanks and ask any last-minute questions which you may have.
If your package has a stay in a Bedouin camp, you can relax, drink coffee, and chat with locals.
There are many benefits to taking a Dune Buggy Rental Dubai tour, such as the excitement of off-road driving and the stunning natural beauty of the desert.
By following this article's comprehensive beginner's guide, you can ensure a risk-free, enjoyable, and truly memorable experience. Giving others insight into your Dune Buggy adventure will encourage them to embark on their own and create lasting memories.
On a Dune Buggy adventure in Dubai, you will experience the thrills and beauty of the Arabain desert landscape. Experience one of the world's most captivating destinations and take advantage of this remarkable opportunity. 
If you have any questions regarding the tour or want an early booking, contact Enduro Bike Advanture today and get it done immediately.