Have you visited Dubai before and didn't try everything to your liking? Or you are planning to visit again in the future. Regardless, there are countless activities one can do when visiting Mega City in the Middle East. The local government continues to work and add anything new that attracts more visitors to the city.  
Those interested in indoor activities and who like to remain in peaceful surroundings can attend shopping malls, try eating at restaurants, or go for walks along the beach. Those who like doing adventurous activities can head down to the desert for dune buggy rental Dubai rides, desert safari tours, and quad biking, and also have some cultural experience with local Bedouins
Hence, every type of visitor can find something that suits their taste. So, if you are planning your next visit, here is a guide to the top 14 things you should not miss. Without further ado, let's dive into it.  
Top 14 Things You Shouldn't Miss on Your Trip to Dubai
According to Tripadvisor, these are the favorite activities and locations most recently visited by tourists. Although the number of people visiting depends on the time of year, these are what visitors like the most. 
Dubai Marina During Daytime 
Dubai Marina is among the busiest neighborhoods you can find in Dubai, and going there is never a boring experience, regardless of whether during the day or night. Everyone from old people to children can find something interesting to their liking, such as eating, shopping, playing areas, and much more. For our foodie friends, nearly 130 cafes and restaurants here serve a variety of foods, including international dishes, local cuisines, and continental options. 
However, the main attraction of the Dubai Marina is the Aquarium and underwater Zoo. It is home to thousands of aquatic animals, comprising over 140 species that are rare in the outside world. Further, you can stroll along the boardwalk to check out the Marina and its surroundings and click some pictures. 
For our adventurous friends, you can try out the longest zipline in the city over Marina and see the city view from a whole new perspective. 
The Burj Khalifa Observation Deck 
How can we forget Burj Khalifa, the city's main attraction for the last decade? This skyscraper opened to the public in 2010, still attracts the most visitors and is seen as the city's main symbol. 
Most people like going to the 124th and 125th-floor observation decks and enjoying the city's beautiful scenery and surrounding area. Well, it doesn't end here. You can reach the 148th floor using the fastest elevators for the highest view in the evening/night to see the glittering city when the lights are turned on. 
For Burj Khalifa, we recommend purchasing skip-the-line tickets in advance so you don't have to wait in long lines at the entrance. Also, purchasing tickets online is cheaper than buying them at the counter. The same applies to all Dubai activities!
Dubai Mall is located directly opposite the Burj Khalifa in the city center. A huge mall like this is one of the most visited shopping centers in the world. With over 1200 retail outlets and hundreds of restaurants, you will surely find something that will suit your tastes and budget.
The shopping mall features waterfalls, aquariums, ice rinks, go-kart tracks, flight simulators, cinemas, arcade games, and a flight simulator! The Dubai Mall is open every year between 10 a.m. and midnight. You can refer to the official website for information on all the existing shops, restaurants, and attractions.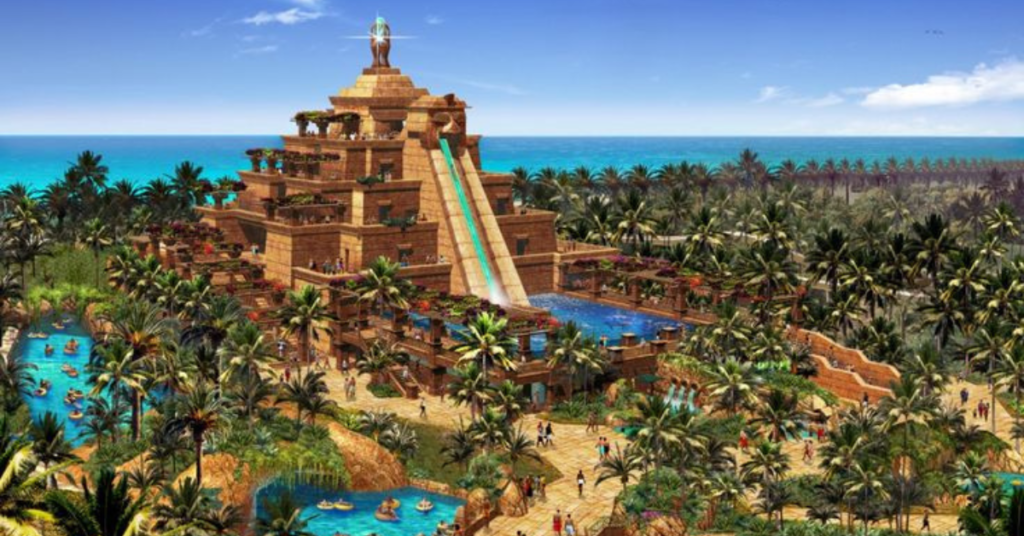 Visit Atlantis Aquaventure Waterpark to Get Wet
It is a less obvious option but one that should not be missed. In the Atlantis Aqua Park on The Palm, an artificial palm extending 72 kilometers along the city's beachfront, you can scuba dive with dolphins, interact with sea lions, and slide through a shark aquarium. The photographers will be scattered throughout the park, capturing your most memorable moments, so wear your best haircut and cool trunks.
Visit the Dubai Creek & Gold Souk
Dubai Creek has been the city's heart for generations and remains a popular tourist and local destination. An Abra is one of Dubai's many traditional boats; it's a great way to explore the creek. You may purchase a one-way ticket or hire an Abra for an hour. This ride offers contrasting views of old and new Dubai, including traditional houses, towers, minarets, local traders, wooden shows, and sailing ships.
Dubai is also called the City of Gold if you did not already know. It has been a tradition for traders to travel to Dubai's souks, which you can call 'souk,' in search of spices, pearls, and gold for more than a century. Dubai has enjoyed great success in gold trading because of its geographic location; Gold brokers can work from East to West in every time zone. One of the most attractive aspects of visiting the Gold Souks is that tourists are exempt from paying any taxes on their purchases.

Skydiving in Dubai is one of the most exciting activities in the world. From a bird's-eye view, it is possible to see the Palm Jumeirah above in all its glory and the vast and fascinating desert surrounding the city. 
Two types of skydiving are done in Dubai: indoor and outdoor. Outdoor skydiving is the most fun because you fly up to quite an altitude before jumping from a height with all the security measures in place. Most first-time skydivers and beginners participate in tandem skydiving, where they are fastened securely to a professional instructor who guides them along the way. 
A relatively new concept, indoor skydiving is also gaining popularity worldwide. This form of skydiving involves simulating free fall conditions in a vertical tunnel. This form of skydiving is ideal for beginners since no risk is involved.
Compared to outdoor skydiving, indoor skydiving is significantly less expensive and provides an accurate simulation of an actual skydive. Even children aged 2 years can also participate without any risks involved. The Mall of Emirates is the most popular location for indoor skydiving. 
With a height of 75 meters higher than the London Eye, the Ain Dubai observation wheel is considered the world's tallest. This wheel towers over Bluewaters Island and offers panoramic views from 250 meters. Despite being visible from many places throughout the city, this attraction appeals to various people, including schools, businesses, families, tourists, and locals. There is a ticketing system for rides on the structure, and passes can be purchased at the event or online.
Global Village Experience 
Dubai's massive Global Village is a theme park for people of all ages but is especially popular with families because it has many rides and attractions geared specifically towards children. From late October to the middle of April, it hosts concerts, rides, culinary experiences, and attractions from around the globe. 
Located outside of Dubai, it's not something you can fit into a city-centric day, but if you're interested in international shopping and entertainment, it's worth checking out. Visit India's traditional spice market, Russia's Matryoshka doll museum, and African wood carvings, and discover the latest fashions from Italy. You can also find handcrafted rugs from Iran and sidr honey from Yemen, so take your time and look around.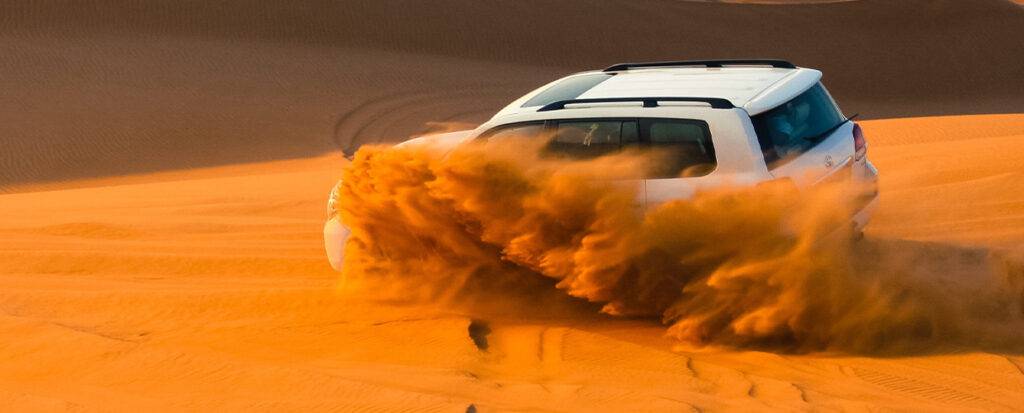 A Memorable Desert Safari Trip
If you are into adventurous stuff that excites your heart, then the Dubai desert safari tour is the best thing you can do. Head down to the largest deserts in Arabia at about 30-45 minutes drive from the city and experience a completely different side of Dubai that does not feature buildings, highways, or modern amenities.
Fewer people are around in the desert, and a peaceful environment is filled with natural beauty. The safari tour begins with a thrilling dune-bashing ride; afterward, you can hop on ATV quad bikes to explore the area. If your adventure spirit is still unsatisfied, try the dune buggy rental Dubai ride, sandboarding, and camel riding. Afterward, enjoy a scrumptious BBQ meal in a campsite desert. 
Dubai is a part of the United Arab Emirates, meaning it is deeply connected to Arab culture and traditions. This is clearly shown in desert safari tours. As a part of the evening entertainment, you can witness belly dancing, Tanoura dance, and fire shows. All are performed under traditional music from the Emirati region, which takes its roots from the times of the Bedouins. Camel  men and professional musicians would have sung Emirati music during that period.
For more information on desert safari tours and related activities like dune buggy Dubai rides and quad biking, please contact the Enduro Bike Advanture helpline and get a special discount. 
Welcome to the world's largest picture frame – and the perfect backdrop for your next photograph. As commissioned by the government, the frame is 150 meters high and 105 meters wide. The chief architect did not intend the structure to be yet another symbol of Dubai's glitzy appearance but rather to capture the entire essence of the city. 
Don't just admire the gate from the outside – head inside to see a multimedia exhibition and an eye-catching observation deck that depicts the city's past, present, and future.
A Trip Aquaventure Waterpark
Aquaventure Waterpark is the world's largest and has recently expanded by over a third. A newly unveiled Trident Tower has the largest kids-only waterpark in the Middle East. 
Aquaventure has more than 30 slides and attractions, including the longest lazy river in the Emirates, thrilling rides (like Leap of Faith), and a private beach. As well as record-breaking waterslides, there is Splashers Park for families. Stingrays, dolphins, and sea lions can also be observed up close and personal.
Legoland Dubai brings the LEGO brand to life with 60 interactive rides and 15,000 Lego models that appeal to children and adults alike. Designed for families with children aged 2 to 12, the park features six indoor and outdoor lands made from 60 million Lego pieces. 
The Legoland Hotel allows families to spend weekends or nights immersed in Lego. The hot summer months can make outdoor attractions a bit unbearable, but the indoor attractions are just as enjoyable and are air-conditioned.
Al Fahidi Historical Neighborhood
Al Fahidi neighborhood within Dubai provides a glimpse into Dubai's life before forming the Emirates in 1971. History and architecture buffs will love getting lost in the twisted alleys and pathways lined with stone, palm wood, gypsum, and teak-style buildings. The maze of streets makes this neighborhood feel like a secluded village away from the city's traffic and skyscrapers.
Immersive Experience at the Museum of The Future 
Finally, everyone is discussing the latest attraction of Dubai these days- the Museum of the Future. A museum established by the Dubai Future Foundation and inaugurated in 2022 explores how society may change in the coming decades due to technology and science.
Living museums combine traditional exhibitions with immersive theater and themed attractions to explore future possibilities. National Geographic has voted it one of the 14 most beautiful museums in the world due to its asymmetric torus design made of steel and glass.
The main museum experience is split into five chapters:
OSS Hope

. Enjoy life on a space station 600 kilometers above the ground.

Heal Institute.

This view of Dubai and the world in 2071 using augmented and virtual reality (AR and VR)

Al Waha

. The Sensory Room at "The Oasis" offers a soothing experience.

Tomorrow Today

. Explore the present-day applications of futuristic technologies.

Future Heroes

. Children can engage in missions and play games in this interactive play space
Here is a list of 14 attractions you must experience on your tour to Dubai. We recommend planning your tour during winter, from October to March, for the best experience, although it is the peak tourist season, and if you are not accustomed to local hot weather, it is your only choice. 
Further, we recommend booking tickets and reservations for all the activities in advance to avoid any last-minute price hikes. For more information regarding Dubai and desert adventures like dune buggy Dubai rides, along with the best tips on how to spend the holiday here, please contact Enduro Bike Advanture.