If you are looking for something adventurous and thrilling to plan with your family, then undoubtedly, dune buggy rental Dubai is the best choice. However, that's not the only choice you have. 
You can enjoy several activities in Dubai deserts, not just dune buggy riding. Several tour operators offer quad biking, dirt biking, sand boarding, dune bashing, campsite dinners, and more. All these activities are designed in such a way as to give you a thrilling and memorable time and experience something which you can't find in the city. 
Today, we will look in detail at all the desert activities, dune buggy rental tour ride you can do in Dubai and which ones to choose from or choose all if you want to. Contact Enduro Bike Advanture and let us know which activities you like, and get an early booking and a discount as well. 
Why Are Dubai Deserts Popular for Adventure Activities?
First, let's explore the reasons behind the popularity of desert activities in Dubai. As you may already know, the Dubai desert boasts a range of terrains offering easy trails and dunes of various sizes ranging from small to towering. These unique landscapes provide a backdrop for thrilling adventures and enjoyable excursions such as buggy rides and quad biking.
Moreover, thanks to advancements, there are designed vehicles that can navigate the desert terrain with ease. These include buggies, dirt bikes, and quad bikes, which have captured the interest of tourists seeking to explore this area. Numerous tour operators now offer vehicle rentals so visitors can venture into the desert and witness its captivating beauty.
Additionally, when it comes to Dubai desert adventures, many incorporate elements of Bedouin culture, allowing visitors to gain insight into the heritage of this region. Such immersive cultural experiences have gained popularity in years, attracting tourists who seek a rejuvenating escape from the bustling city life while embracing a refreshing journey into tradition.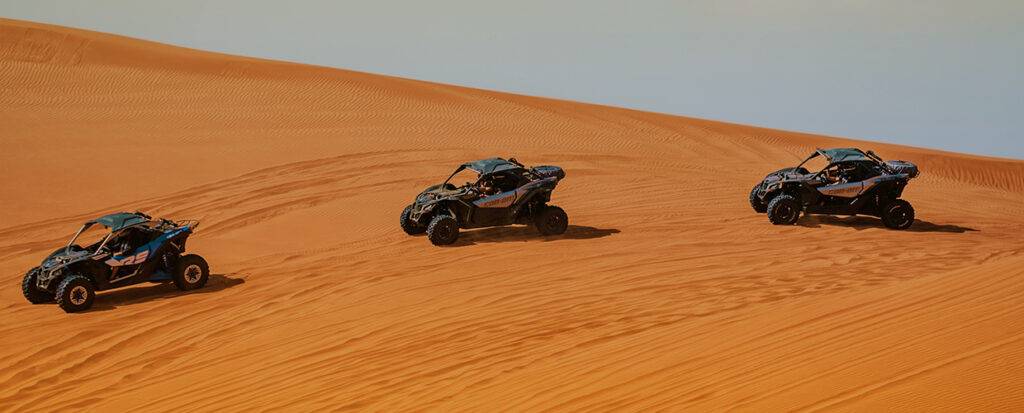 What is Dune Buggy Riding?
Coming on to the desert adventures, the most popular one is dune buggy rental Dubai riding. It involves driving specially designed vehicles for recreation purposes. Large wheels and wide tires are the hallmarks of dune buggies, designed for use on dunes, beaches, or off-road activities. 
Further, they are open-air with roll cages installed on top to prevent it from rolling over if there is an accident. These vehicles can travel at a speed of 130 kph and easily traverse the rough and sandy surfaces of the desert, giving the user a thrilling and adrenaline-inducing experience. 
To drive them, you must wear safety equipment: a helmet, goggles, and knee pads to protect your body from harm. 
Enduro Bike Advanture offers affordable Dune Buggy Rental Dubai tours with 1-2 and 4-seater buggies suitable for individuals, couples, and families/groups. Do check our service page for more information.
Other Desert Adventure Activities To Enjoy in Dubai
As we discussed, dune buggy Dubai riding is not the only adventure you can enjoy in the Dubai desert. All the activities discussed below can be booked simultaneously on a desert safari tour.
Experience the Thrill of Dune Bashing
An exciting activity to take part in while in the Dubai desert is dune bashing. A dune bashing session is usually the first part of a desert safari, traditionally conducted in a 4X4 vehicle like a Landcruiser, Pajero, or something similar. Unlike dune buggy rental riding, the dune-bashing vehicles are closed from the top, and you can enjoy them in air condition.
The vehicle's tires have been deflated for improved traction on the dunes. The vehicle is driven by a professional driver with extensive experience handling high and low dunes. Dune-bashing rides are comparable to rollercoasters due to their speedy motion.
Take a Memorable Hot Air Balloon Ride
Dubai offers a truly unique experience when it comes to hot air ballooning. You can experience a thrilling view of the desert in Dubai against the backdrop of the Hajar Mountains as the golden dunes change colors with the changing light.
A flight 3,000 feet above the desert gives you a feeling of floating on the clouds and a 360-degree view of Dubai. You will be guaranteed to take some of the most beautiful photographs during the journey. While hot air ballooning is an adventure activity, it is also a tranquil and peaceful experience.
Get on a Quad Bike For a Trip in the Desert
If you like adventure sports like dune buggy riding, you will surely love quad biking. Quad bikes are driven similarly to dune buggies, the only difference being that they are much faster and difficult to master.
Take them across uncharted desert territories and explore the region at your own pace. See what the desert offers and experience a peaceful environment while climbing on top of a dune and observing the golden sand made by striking sunshine.
As part of the Desert Rides in Dubai package, tourists can access professional guides who will arrange all the necessary instructions, safety points, and safety gear for the trip.
Glide a Sandboard Down the Dunes
If you visit the Dubai desert, you cannot miss the opportunity to go sandboarding. This activity breaks up the monotony of your everyday activities and provides you with great energy and enthusiasm.
When you slide down the golden dunes of sand in Dubai's vast desert area, you will release all your stress. Sandboarding generally involves strapping the feet to the board and sliding down the dunes while enjoying the serenity of the desert environment.
Capture the Best Sunrise/Sunset Views
Depending on your choice, Your desert adventure will take you to see the sunrise or the sunset in the desert. When you take a desert safari in the morning, you can observe the sun rising and flooding the dunes with a beautiful golden hue.
However, you will be treated to a stunning sunset during the evening desert safari. Nothing is more beautiful than sunrise and sunset in the desert; you can take extraordinary photographs at both times.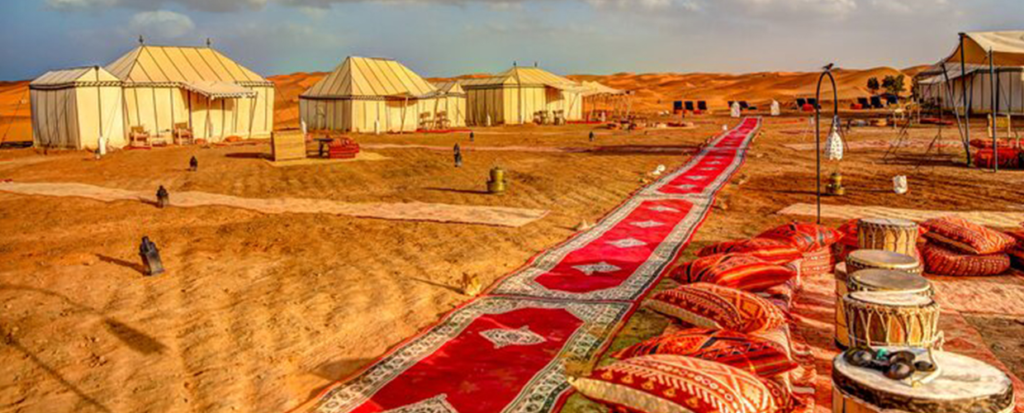 Cultural Activities You Can Enjoy in Dubai Desert
As we discussed, desert tours include cultural experiences for visitors who can enjoy local heritage and experience something new. Here are the most popular cultural activities in the Dubai desert. 
Enjoy Shisha Smoking While Sitting in a Bedouin Camp
The practice of smoking shisha is integral to Arab culture. As a method of social relaxation, it was one of the most common practices among the Arabs in the past. There are many shisha cafes and restaurants where you can enjoy shisha smoking. For an authentic desert safari experience, you should smoke shisha during the trip while sitting in a desert camp. 
Those who have never tried shisha should pay attention to the instructions. Various flavors are available, including apple, grape, mint, vanilla, banana, and others.
The Thrill of a Wobbling Camel Ride 
Camels have been an important part of Arab culture for several centuries, and they still are. Most desert safari packages include a camel riding trip ranging from 30 to 45 minutes, which is enough to give you a glimpse of how the locals traveled in the past and what difficulties they encountered. In short, it is an immersive cultural experience that you will surely love. 
Adorn Your Body With Henna Painting
Asian and Middle Eastern countries traditionally apply henna to their skin. You can get beautiful Arabic henna designs on your palms, arms, or feet during a desert safari. It is usually possible to hire a henna artist at a desert camp. A design will be applied to your hand within a few minutes after you select one from the design sheet. Before displaying the henna design, let it dry.
Enjoy a Nightful of Entertaining Performances
There is more to the desert than adventure activities. Furthermore, there are also entertaining performances to be enjoyed. In most desert safaris, a belly dancer will perform an elegant dance performance. Additionally, a compelling performance is provided by the Tanoura dancer. A few desert safari tours include activities such as fire dancing and falconry as part of the itinerary.
Fill Your Appetite With BBQ Buffet Dinner
Nothing beats the joy of savoring authentic Arabic cuisines in a luxury tent. A typical dinner in the desert includes starters, main courses, and desserts. In addition to traditional Emirati BBQ cuisine, a variety of popular international dishes are included in the dinner. Further, you also have the option to choose from vegetarian and non-vegetarian options. 
An Overnight Stay in The Desert
An overnight desert safari is a good choice for those who wish to spend a longer period in the desert. A desert safari overnight allows for a comfortable stay, sleeping in tents or enjoying a bonfire under the starry sky. There is an unlimited supply of Arabic tea and coffee on hand during the night if you wish to stay up to enjoy the beauty and silence of the desert. Furthermore, you will also have the opportunity to witness a breathtaking sunrise in the desert.
Which Desert Adventure is Best to Enjoy?
As you notice now, there are many activities you can enjoy in the desert besides dune buggy rental Dubai riding. You can customize your desert safari tour as you like and include the activities that interest you and exclude those that don't interest you.
For example, if you are an adventure enthusiast and have become bored of city life, then a dune buggy ride, quad biking, or sandboarding will be ideal. Otherwise, if you are not that much into adventure, or you are not medically fit to enjoy them, then you engage in camel riding, hot air balloon riding, and a stay at a desert camp where you can enjoy local delicacies, dances and have a relaxing time with locals and learn more about their culture.
Regardless of your choice, both options are good for your vacations and provide a much-needed break from your hectic life to try something new.
You can also book a complete Desert Safari Package, which includes all the activities, i.e., adventurous and cultural if you have the budget and time because they last a whole day or several hours.
Here is everything to know regarding the dune buggy Dubai tour and other desert adventures you can find.  For more information on booking any desert adventure or difficulty deciding which activity suits you, please contact Enduro Bike Advanture; we can help you decide and craft a suitable tour package.