Dubai's vast deserts are ideal locations for off-road adventure and thrills. Millions of adventure enthusiasts go every year on their vacations to partake in dune buggy rental Dubai and have some quality fun time. 
From high dunes to challenging routes in Dubai's desert, scenic beauty is enough to take all your worries away and allow you to breathe fresh air away from city noise and pollution. If you like adventure sports and want to try dune buggy riding, here are some popular off-roading trails near Dubai for such activities. For more information regarding safety measures, speed limits, and booking details, you can contact our representatives at Enduro Bike Advanture.
Popular Desert Routes For Dune Buggy Riding in Dubai
Off-roading is one of the most popular adventure activities in Dubai. Several off-road trails in Dubai are available for such activities. Further, the well-established infrastructure makes arranging off-road excursions in Dubai easy. Below are some popular off-roading trails in and around Dubai if you plan a road trip in the UAE.
Located on Hatta Road, Al Badayer is one of the most popular off-roading destinations near Dubai. Driving on Hatta Road is itself a very enjoyable experience. Once you get to Al Bayader, you will see why it's the ideal location for off-road adventures. It has unique big red dunes that are challenging to climb and a picturesque view of the desert area. 
You can try several activities here, like dune buggy riding, quad biking, sandboarding, and dune bashing. New riders can also rent these services along with a guide so they don't encounter any problems. Further, you can also book a desert safari tour, spend a whole day in the area with your family and friends, and witness entertainment activities here. 
It is located near Hatta Oman Road. 
Driving timings from Dubai: 45 minutes via Al Ain – Dubai Road/E66 and Dubai-Hatta Road/E44
Masafi village is located on the Ras Al Khaimah and Fujairah border in the eastern United Arab Emirates. Its steep mountains and rocky terrain make it a popular destination for dune buggy rides and off-road activities. 
Further, Masafi is a popular destination for buying local souvenirs and carpets you can take back home as a reminder of the time you spent here. 
The drive from Dubai takes approximately 1 hour via the Khorfakkan Road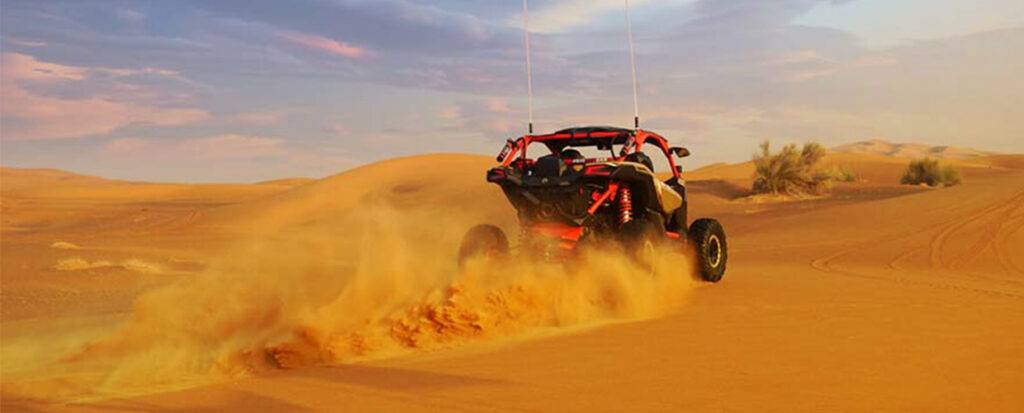 The Liwa Desert is another excellent place for off-road driving near Dubai. Located in Abu Dhabi's Western region, although it is a three-hour drive from Dubai, it is worth every second you spend here. In the peak tourist season, large crowds always come here to take a glimpse of natural beauty away from the city's hustle and bustle. 
More importantly, Liwa desert has some of the largest dunes in the world that reach upto a height of 300 meters, which are ideal for trying off-road activities like dune buggy riding, sandboarding, and dune bashing. Since it offers beautiful scenery, you must click memorable photos of the trip with your group, whether with family or friends. 
If you are up for the challenge, book your tour with Enduro Bike Advanture for more details. You have the option to book a guided tour or go independently. For newcomers, we recommend guided tours and don't forget to wear safety equipment: a helmet, knee pads, and goggles. 
It is located at the northern edge of Rub Al Khali, also known as the Empty Quarter.
The Sweihan desert is on the Dubai, Abu Dhabi, and Al Ain border. A popular off-roading trail near Dubai has some interesting geological features, and you can find plenty of wildlife animals that have lived here for centuries. 
Some popular outdoor activities are dune buggy riding, quad biking, and desert camping. Remember, the Liwa desert has some of the most dense, which experienced drivers can only traverse. So if you are trying dune buggy riding or similar activity for the first time, we recommend you avoid this area. 
For experts eager to drive here, you may want to consider buggies with powerful engines, usually Cam-Am buggies. Enduro Bike Advanture offers affordable packages for Cam-Am buggies, call us today for more information.   
The location is on Sweihan Road – Al-Hayer
Located within the vast Al Marmoom Desert Conservation Reserve, Al Qudra is a popular desert close to Dubai. It is located south of Dubai, approximately 50 km from the main city. Al Qudra has approximately 87 sq. miles of area where you can find rolling dunes and challenging routes suitable for off-roading activities like dune buggy riding, dune bashing, and quad biking. 
Moreover, it also offers a diverse range of off-road trails, such as sand, gravel, and hardpack dirt, which are challenging and diverse. Furthermore, a man-made lake called Al Qudra can be found in the desert, ideal for camping and picnics. Additionally, numerous tour companies offer off-roading packages. This makes off-roading very accessible to visitors.
This location is in the Al Marmoom Desert Conservation Reserve.
Driving timings from Dubai: The journey takes approximately half an hour via the Sheikh Zayed Road/E11, the D63, and the Al Qudra Road/D63
With over 2,000 square kilometers, the Lahbab Desert is an excellent location for off-roading activities you can engage in. Lahbab is located approximately 45 km southeast of Dubai and is popular among individuals seeking outdoor adventures close to home. 
Further, it has towering dunes and a unique terrain for trying dune buggy Dubai rides, quad biking, and sandboarding. Also, you can find protected areas for wildlife here, home to oryx, spiny-tailed lizards, and gazelles. So, if you are a wildlife photographer, the Lahab desert is an ideal spot to try out your photography skills. 
Located between Dubai and Sharjah's border
Driving timings from Dubai: About 30 minutes via Al Ain – Dubai Road/E66 and Jebel Ali – Lehbab Road/E77
We have now concluded our discussion of popular off-roading trails near Dubai. There are strict safety regulations in the UAE regarding off-roading in the desert, ensuring that all visitors enjoy their experience safely and enjoyably. If you want to go on an adventure of dune buggy rental Dubai at any of these places at an affordable package, contact Enduro Bike Advanture.