Dubai Deserts provides a perfect playground to try exciting activities that help to take your mind off your busy life routine and allow you to experience something new that you can't find in the city. Of course, we are talking about buggy rental Dubai rides, which take place in the vast deserts surrounding the city and away from the crowds. Plus, it's family-friendly and completely safe; kids can enjoy it, too.  
As we all know, Dubai is expensive, and only rich people can afford it. Although there are many budget-friendly ways to experience this adventure with your family without spending too much, that's what we will learn today
What Are Costs Associated With Dune Buggy Rides?
Let's understand what costs are associated with dune buggy rides and how they can vary:
Duration of The Tour
First, let's talk about the tour duration and its associated costs. As the duration of the tour increases, so does the price. Most rental companies offer 1-4 hours of dune buggy rental Dubai options, which becomes expensive with each increasing hour.
Further, private and shared buggy options are available, with personal being the most expensive because you have all the buggy to yourself, and no other party will share the cost. The private option is best if you are a group of 5-6 people; if you are single or two persons, we recommend a shared tour.
Type of Buggy You Choose
Next up is the type of buggy you choose for the tour. High-performance buggies with a powerful engine and more features are expensive. Cam-Am buggies fall into this category that are expensive and are only suited for professional or seasonal drivers.
If you are a new driver or someone trying the adventure for the first time, we recommend booking a slow-paced buggy that you can drive easily and that costs less. Polaris buggies are better suited for your requirements in this case.
Enduro Bike Advanture provides both buggy rental Dubai options for tourists at reasonable prices, do give us a call for any inquiry and check our packages to see which is suited to your budget.
Type of Tour You Choose
Another thing that determines the cost is the type of dune buggy tour you choose for your vacation. There are options for guided tours and self-drive tours that are priced differently. Guided tours are expensive because a professional guide teaches you how to drive the buggy, which route to take, and which to avoid. Self-drive tours are best for professionals who know the way and how to handle a buggy in difficult terrain.
Guided tours are best for those trying the adventure for first-time visitors who have never driven dune buggies before and don't know anything regarding the desert environment and which routes to take.
Group Size
The group size also determines the cost in some instances. If you are a group of 6-7 persons, you will book multiple-seater buggies that cost more, along with the safety equipment you get.
Sometimes, a rental company offers packages and special discounts to groups with a certain number of people. Check out the company website for this information; sometimes, they post ads or promotional events highlighting such offers.
Furthermore, you can call them and ask if they offer any discounts for groups that may help reduce your costs. Enduro Bike Advanture offers such discounts, do visit our website or call us to inquire about this.
Season and Demand
The last thing that might affect the costs of dune buggy rental Dubai tours is the seasonal demand. Usually, during the peak season, prices are higher due to demand, and those who book first get the best prices. Peak season usually lasts from October to March, which are winter months.
To book dune buggy rides at low prices, we recommend booking during the off-peak season in the summer months when there are fewer tourists, and rental companies reduce the costs to attract potential clients.
Further, some companies also give discounts and customized packages during special events like Eid or Christmas, so look out for that.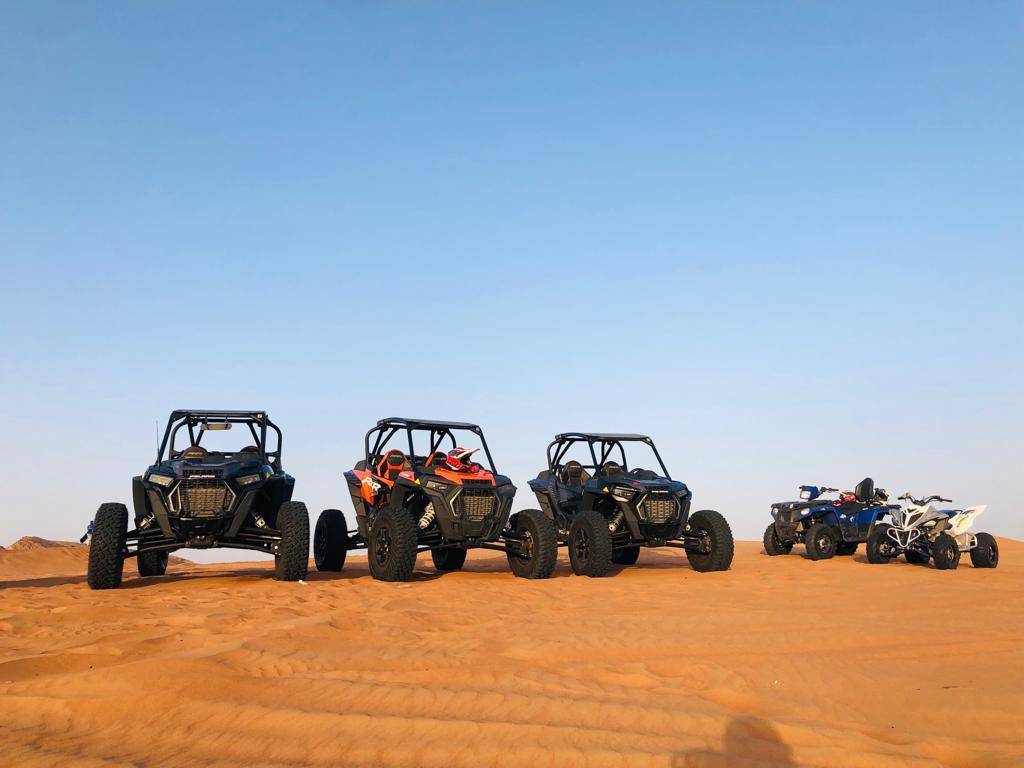 Budget-Friendly Ways For Booking Dune Buggy Dubai Tours
Now that you understand the costs of dune buggy tours and why they vary let's discuss some tips that help to save money:
Compare different Rental Company Prices
Due to the increased popularity of dune buggy rides today, many tour operators are providing rental services. Take time to compare prices and see if you can find one that meets your budget and if someone offers discounts that may benefit you. 
Book The Tour in Advance
Always plan your tour a week or ten days before to get the best deals. If you book at the last minute, the prices will increase and might not suit your budget. 
Opt for Shared Tours 
Shared tours are less expensive since costs are divided among the participants compared to a private buggy, where you alone have to pay for everything. Shared terms also allow you to meet fellow riders who like doing adventure activities and make new friends with whom you can share more rides in future tours. 
Schedule Your Tour During Off-Peak Season
If possible, try scheduling your tour dune buggy Dubai tour during the off-peak season; as we have mentioned before, in the summer months from April- September, you may get lower price packages and fewer people, and you will have a peaceful environment. 
However, when going to the desert during the summer months, you must be extra cautious because the temperature is extremely hot and can harm your skin. 
Book on Weekdays instead of Weekends 
Continuing from the previous tip for off-peak and peak season, the weekends usually demand dune buggy tours, and prices increase. Instead, you can book the tour on weekdays when demands are lower, which will help you save money.   
Try to Book Bundle Packages 
Suppose you want to explore more activities in the desert besides dune buggy but need more budget. In that case, you can look for bundle packages that desert safari tour, which includes multiple activities at a reduced price. These activities can be dune bashing, camel riding, quad biking, and sandboarding, similar to dune buggy riding, offering the same level of thrill and excitement.  
Enduro Bike Advanture offers desert safari tours that will fit your budget and leaves you with a lifetime of memories, So check these out. 
If possible, Negotiate the Prices
Try to negotiate the price with the rental company and see if you can compel them to reduce the price you can afford. Some may agree with your demands, and trying to negotiate is always better than doing nothing. 
Take a Trip With a Group
A dune buggy adventure can be more affordable when traveling with friends or family. You can split the cost of activities and accommodations among the people in your group. Furthermore, traveling with a group enhances the enjoyment of the trip. 
Book Your Tour With Small-Scale Operators
Consider renting the dune buggy tour from a small, local, or new tour operator that offers low and competitive prices. These prices are quite affordable, plus you get a more personalized experience. 
However, we recommend you verify the reputation of such operators through online review ratings and ask if someone else has booked with them. Remember to check their safety standards, which are paramount in dune buggy Dubai rides. 
Check the Age Restrictions of The Company 
Before final booking with a rental company, check their age restrictions for drivers because some have minimum age requirements for individuals who can drive the buggy. You must meet these requirements to avoid paying additional costs of hiring a driver.  
Prioritize Safety First 
While we understand you must plan everything within a reasonable budget, you should never compromise your safety. Always choose a tour operator that maintains their buggy and top-class condition and provides necessary safety equipment like helmets, goggles, and knee pads. Remember, never compromise on safety to save a few bucks. 
Bring Your Food and Water 
Dune Buggy Rental Dubai tours often include refreshments like food and water at the campsite for a little additional cost, but to save money, we recommend bringing in your own small snacks and water bottles. Just be sure to check with the operator about any restrictions on outside food.
Enduro Bike Advanture provides all the refreshments at the campsite without additional charges and as a part of the package. 
Book Tour With Shorter Duration 
If you are tight on budget, consider booking shorter-duration dune buggy tours that last for 1-2 hours instead of those with 5-6 hours duration, which includes multiple stops in the desert. The experience will be fun and won't cost any extra money. 
Following these budget-friendly tips and taking advantage of discounts, packages, and off-peak opportunities, you can enjoy dune buggy rides in Dubai without straining your budget. Remember that safety, quality of service, and your overall experience should always be a top priority when selecting a dune buggy tour operator.
For information about discounts and packages, please get in touch with the Enduro Bike Advanture helpline on Whatsapp or call directly.