UAE has become a popular hub for adventurous activities, and people from everywhere come to spend their vacations by enjoying such activities. If you plan on traveling to the UAE, we have compiled a list of the best adventure activities in the country. 
Whether you want to relax in the desert surroundings or enjoy the city lifestyle with family, you can find everything here. So get ready to have a stomach-dropping experience on your vacation when you engage in these activities
Take part in one of Dubai's most popular adventures, enjoyed by both tourists and residents at Skydive Dubai. Jumping over the Palm after leaping from 13,000 feet is one of those experiences you should share with the grandchildren, especially when there is video evidence of your boldness in going where none of your family members have ventured. The experience is equally terrifying and electrifying.
For first-timers, skydiving tandem is the safest way to experience the thrill of skydiving. A qualified professional will always accompany you at all times. You only need to hold on tight and smile for the camera.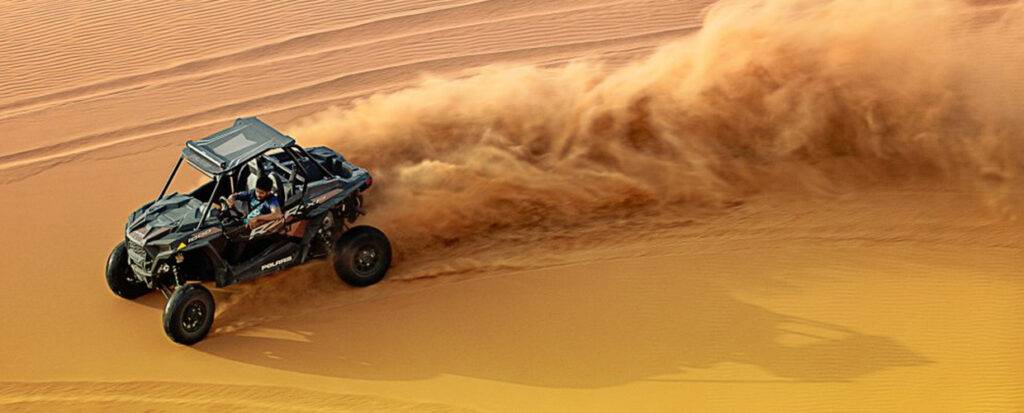 In Dubai, the desert terrain provides plenty of opportunities for thrills on the ground. You can conquer the dunes in style with a high-powered dune buggy rental Dubai ride. You won't find a better dune buggy experience anywhere else. A four-wheel drive automatic buggy is the ultimate thrill and does not require a license. Be sure to wear your helmet and hold on tight; this is an adventure you will not want to miss.
Book a dune buggy tour from the city's leading tour operators, like Enduro Bike Advanture. 
Experience the world's fastest roller coaster indoors
The rollercoaster you're about to ride is unlike anything you've experienced. Storm Coaster is located in a mall. Yes, at a mall. This is only available in Dubai,? The Storm Coaster at Dubai Hills Mall is a great place to ride after you've done some shopping. 
You will encounter non-stop action as you ride the two-and-a-quarter-minute ride, leaving you breathless and exhilarated simultaneously.
Shark Diving at Dubai Mall
Dubai is well known for its shopping malls, but The Dubai Mall is the most famous, attracting casual shoppers and adventure enthusiasts. The mall has a large aquarium tank where diving activities happen amongst countless marine species. The estimated number of species is around 33,000. 
It is possible to swim in this pool if you are at least ten years old. The site also offers a short diving course that teaches you the basics of scuba diving.
Flyboarding is the most popular, thrilling activity you can find in Dubai and one that attracts many high-profile celebrities. 
Fly over the waters of Dubai at 40 kilometers per hour (kph) on a hydroflight device to view the amazing city landscape. Jumeirah Harbour offers the best flyboarding facility, so if you are interested, visit here. Although one must be 18 years or older to participate in this activity. Further, you will also need a swimsuit that you can find with the tour operator. 
Dubai has introduced indoor skydiving for those who fear heights but want to experience skydiving. The only indoor skydiving that can be enjoyed in Dubai is through a fan device that creates a vertical movement of up to three meters. An experienced guide supervises you and provides safety equipment, although you need specialized training.
Anyone can do indoor skydiving regardless of age, even children as little as five years old or elderly persons in their 70s. 
Ziplining at Dubai Marina XLine
This is one of the most extreme adventures on Dubai tours. A zipline ride takes place at 60 to 70 km per hour at a height of 1,800 feet above the ground with a string attached. While this activity will only take a few minutes of your time, the experience will last a lifetime.
Zip lining can only be enjoyed if you register on the official website of the designer or creator, XDubai. A zip-line run is consistently given to 30 fortunate people. Ten years of age and 130 centimeters of height are the minimum requirements.

Embark on a bike ride through Mushrif Park
Take on Mushrif Park's 50 km mountain biking track, which recently opened its first phase in one of the UAE's oldest parks. There are 20 km of trails, and another 30 km are being completed. Near the park's main gate is the park's cycling track, which is 3 meters wide and can handle 3,000 cyclists daily. Trails vary in difficulty, so no matter what level you are at, you are sure to find a route that is perfect for you.
Walk along the ledge of a skyscraper
At a height of 219 m above the ground, Sky views Dubai offers the latest attractions for adventure seekers. It comes close to being a skydive. View Downtown Dubai from the edge of the Address Sky view Hotel as you walk around the corner while strapped to a rope. 
It might be difficult to say, 'You can view anything due to strong wind blowing' because you can't open your eyes. We will say, ' Let the wind blow through your hair as your heart beats'. The blood will be pumping with this one, but don't worry, you'll be harnessed up.
The Observatory and Glass Slide offer milder sightseeing escapades for those who prefer a more leisurely pace.
Get Behind the Wheel of a Ferrari
The Ferrari World Abu Dhabi theme park is located on Yas Island in Abu Dhabi and is primarily indoors. Visitors can drive Ferrari and even engage in racing competitions with other drivers. 
Further, there are our Ferrari-trained instructors who can help you explore the roads of Yas Island. 
There is no doubt that this will get your heart racing. It is impossible not to want to drive a Ferrari, is it not?
Kayak at Eastern Mangroves
Paddle-powered pursuits are available throughout the UAE, but Abu Dhabi's mangroves have repeatedly caught our attention. The natural beauty surrounding you makes it easy to lose yourself in the moment, but luckily, the tour guides will keep you on course.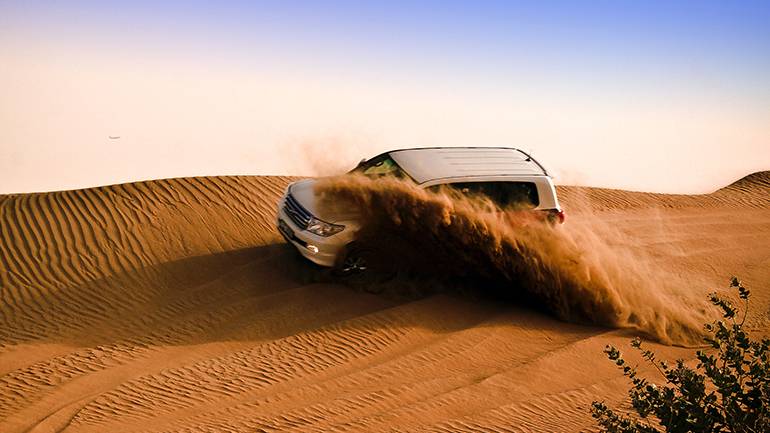 Although you can find desert safari tours in Abu Dubai that offer premium services, Abu Dhabi Safari comes on top. The reason is Abu Dhabi offers a more traditional and authentic experience; further, the deserts are less crowded compared to Dubai and provide a more relaxing atmosphere. The costs are also less; just for a price of £45 per person, one can enjoy dune bashing and desert dining, which is a great value.
Warner Bros World in Abu Dhabi only opened on the 25th of July, so it's one of the newest attractions. The WB world attracts children and adults alike, especially those who have grown up watching superhero movies.
There are superhero-themed rides alongside various other attractions. The most famous rides are 'Metropolis' (with the Superman ride) and 'Gotham City' (with the Scarecrow and Riddler rides).
You may visit WB World at any time of the year because it is completely enclosed. It is also a welcome change from the scorching sun outside to be indoors and cooled by an air conditioner.
If you are in Abu Dhabi, visiting WB World is well worth your time and money, which costs 295 AED (£60).
There is no doubt that Snoopy Island is one of Fujairah's most beautiful (and most popular) tourist attractions. A cool breeze, speed boat propulsion, and a hefty gust of wind,, are enough to make this place extremely exciting when you are soaring above it strapped to one of your loved ones. For a honeymoon trip, this activity is ideal 
Have you ever considered diving in the UAE? Then, consider going to the Dibba Rock underwater site for sea exploration if you are comfortable swimming underwater. On a good day, divers can dive as deep as 30 meters, but with visibility of 10 meters. A trip to Dibba Rock is an unforgettable experience and a must-do if you visit Fujairah. 
Divers can spot sting rays and green turtles swimming above a small shipwreck and swaying corals waving to them.
A Canyoning trip at Wadi Showka
A hike through water will give you more of a buzz than hiking through land. Canyoning is that, and at Wadi Showka, you can climb, scramble, and wade, which helps you get an entire week's worth of exercise in a few hours. If you are a small group, you can easily book here, and the price depends on the number of participants and the trip time.
Take Flight at Jebel Jais
At 1,934 meters above sea level, the world's longest zipline can be found in Jebel Jais. 2.8 km, or 28 football fields, will be covered in the air as you fly at 150 kph in the Superman pose.
Ride the Region's Longest Toboggan Run
As of February 20, 2022, the Jebel Sledder has been a popular thrill ride. It provides the same thrills as bob-sledding but without the snow. Through exhilarating hairpin curves, riders will rush across the track at speeds as high as 40 kph. The 1,885-meter alpine coaster track will take you on an eight-minute high-speed ride.
UAE offers countless adventurous and daring activities you can enjoy on a vacation. We have compiled this comprehensive list of the most popular and exciting activities that everyone tries. Ultimately, we recommend making your visit to Dubai worthwhile; these activities will help you do that. 
For more information regarding adventures in Dubai or helpful tips, please contact Enduro Bike Advanture support staff by E-mail or Whatsapp.