Dubai attracts millions of tourists each year with its range of thrilling adventure activities. Among the adventures are the ones that take place in the desert, particularly riding ATVs. When it comes to ATVs, you have options such, as quad bikes, dune buggies, and dirt bikes which can be rented from operators at reasonable rates based on your preferred model and duration.
Now you might be wondering how to choose the vehicle among these three options. Each option requires a level of skill to drive. Guarantees an equally enjoyable experience. Dune buggies are perfect for group rides due to their 4-seater models, while quad and dirt bikes are commonly used for excursions.
To assist you in making a decision, we have prepared a guide that outlines the features of each vehicle along with important safety tips you should follow. Let's dive into it!
An Introduction to All Terrain Vehicles (ATVs)
Let's begin by understanding what ATVs are and why they have gained popularity in Dubai. As the name suggests, ATVs are vehicles designed for driving on any type of surface – whether its smooth or rough, with bumps along the way. Given that Dubai's deserts offer terrains with turns, these vehicles prove to be ideal for exploring such areas.
Many tour operators provide these vehicles for rent to tourists at prices depending on the model they want. 
If you are interested in renting these vehicles for your vacation, please reach out to Enduro Bike Advanture. We offer Dune buggies, quad bikes, and dirt bikes at affordable rates and packages that meet your expectations. Also, we offer discounts for groups and special holidays (Eid and Christmas). So contact us while you are visiting the city for vacation, and our staff will guide you further.  
Now, let's look at the features of each of the ATVs mentioned.
Popular ATV's You Can Book in Dubai
Here is a little overview of the popular ATVs you can book in Dubai for your off-road adventure. 
Quad bikes are the first ATVs we will discuss in this guide. If you have seen one, you will know these are 4-wheeled vehicles designed for single or double riders only. They have metallic handlebars that drivers use for steering like we use on a motorcycle. The seats on quad bikes are straddled between handlebars and rear wheels where the passengers can sit. They can be easily driven on a diverse range of terrain, which includes sands, rocky paths, and hilly regions. 
Being 4-wheeled, they are stable and easy to learn and drive for beginners. 
There are two types of quad bikes available in the market, namely sports and utility. The sports model is compact and easily reaches a high speed of 130 kph. For our desert adventure in Dubai, you will rent the sports model. 
Dirt bikes can also be classified as ATVs and are popular for off-road adventures. Unlike our regular motorbikes, these come with lightweight frames, long travel suspension, and knobbly tires, which allow us to travel quite easily on challenging terrain like deserts and rocky areas. Just like quad bikes, dirt bikes have handlebars for steering and two seats for passengers. 
Remember one thing: they are not allowed to be driven in city and highways as they don't meet the safety standards. You may have to pay a hefty fine if you are involved in any such activity. 
Apart from these restrictions, dirt bikes offer better control and stability. They are commonly used in motocross and trail riding. Riding them requires a dynamic posture, making it a physically demanding and exhilarating experience. These bikes are particularly favored by riders who seek adrenaline rushes and enjoy riding challenges.
The last entry on our list of ATVs you can book in Dubai for your off-road adventure is dune buggies. These are just like quad bikes and come with 4-wheeled deflated tires, which makes them suitable for driving on rough surfaces like sand, hills, and rocky paths. 
Unlike quad bikes, they are bigger and come with roll cages and an open frame design, which provides more safety for the riders as they prevent the rollover of the buggy; this feature is absent in quad bikes. They are powered by engines similar to those found in cars, providing more horsepower and speed, and are equipped with off-road tires for sand traction.
Dune buggies come in different seating arrangements, with 1, 2, and 4-seater being the most common. Families and groups usually prefer dune buggies over quad bikes due to the 4-seater option. Riding in a dune buggy offers a thrilling experience, and if you are an adventure freak, you will love riding it as it provides a blend of speed, control, and adventure.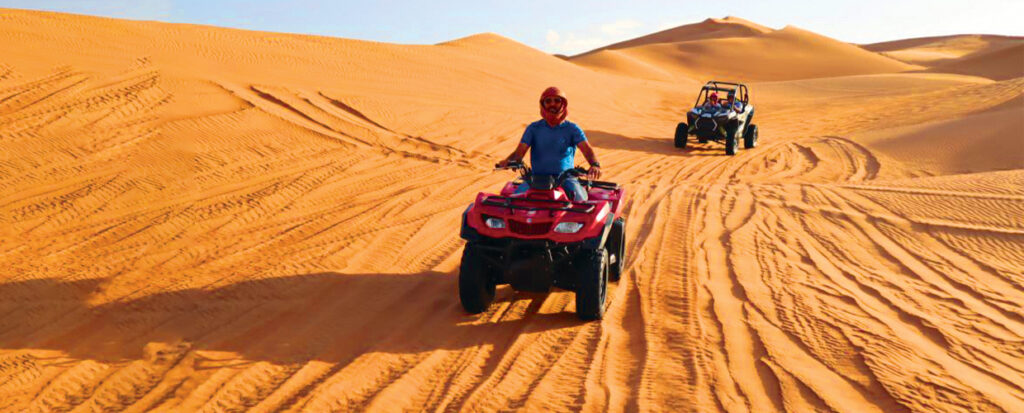 How to Choose the Most Appropriate Vehicle Among the Three Choices?
Now that you have an understanding of what ATV is and what type you can book in Dubai, the question arises: how do you choose the most suitable? Well, you must consider the following factors: 
Experience Level

: If you are a beginner rider and have driven an ATV before, then we recommend 

booking a dune buggy or a quad bike since they are easy to drive and safer than dirt bikes. It's not that dirt bikes are difficult to drive, but they are less stable and difficult to handle. Further, your tour operator will provide you with beginner lessons as well before you set foot on these vehicles. Pay attention during these lessons so you have no difficulty later on. At Enduro Bike Advanture

, you will get step-by-step instructions from our expert guides in the 'Guided Tour' package. So if you are a newbie, call us now to book your ride.  
Terrain for The Trip:

The next factor to consider when choosing an ATV is the type of terrain you will be driving in. If you want to explore the vast desert terrains and climb on tall dunes to witness the sunset scenes, then dune buggies and quad bikes are ideal because dirt bikes can't climb and descend from heights and can be dangerous if you make any such attempt.

However, if you wish to explore rough terrain with many turns and narrow trails, then a dirt bike is suitable. Usually, professionals and seasonal drivers go on these terrains looking for a heart-pounding adventure. 
Group or Solo Adventure:

The number of people in your group also determines the type of ATV you choose. If you plan on going with your family, including children, then a dune buggy is the best choice since it is safer and has a 4-seater option that can easily accommodate you.

If you are going solo or with a friend, then quad bikes and dirt bikes are better choices, and you get an expert guide as well for both. 
Budget Considerations:

Next, you need to consider your budget and see which option is suitable among the three. Dune buggy packages are more expensive compared to the other two options. However, they have more seating capacity and are secure, which is why they are costly. Quad bikes are the cheaper option, but they are only suitable for solo trips and not for groups and families.
Preparing for Off-Road Adventure in Dubai
After selecting and booking your preferred vehicle, you need to prepare yourself for the off-road adventure. To help you prepare, here are a few tips to consider:
Keep Yourself Hydrated

: Hydration is important when in a desert where temperatures are unbearably hot.  If you don't drink enough water, you might suffer from dehydration due to excessive sweating, which can be life-threatening. To avoid this, bring a water bottle along and drink it at regular intervals. You can also re-fill them at different stops along the tour. 
Check Vehicle Condition

: Always check the condition of your chosen vehicle and ensure its engine and other parts are working properly before you begin your ride. Take it on a test drive to see if its brakes and accelerator work fine and if there is no noise coming from the engine. If you do spot any issues in the vehicle, ask your tour operator to replace it immediately.

To avoid this, always read online reviews of tour operators and see if any customers complained about faulty vehicles or not. Don't book from the same operator if you see such reviews. 
Wear the Safety Equipment

: Always prioritize your safety above anything else. Off-road adventures are dangerous, and one must wear the safety equipment provided to keep themselves safe from potential injuries. In Dubai, when booking a quad bike, dirt bike, or dune buggy, you will be provided with a safety helmet, goggles, and knee pads for your safety.

Always wear the equipment provided, and don't take it off during the ride. Further, check the quality of the equipment as well to see if there are any defects in it. 
Bring a Camera Along:

You don't want to go on a desert adventure without capturing any memories of it and showing it to your friends later on. Bring a DSLR camera to capture the beautiful desert views and your complete journey of the tour. Sunset views are the best in the desert. Make sure you photograph those and yourself against the backdrop of the view. 
Off-road adventures in Dubai are very popular activities you can do there. You can choose from quad bikes Dubai, dune buggies, and dirt bikes. To help you in making this choice among the three, we hope you enjoyed reading this whole guide and now can make the appropriate decision based on your skill level and personal preferences.
If you need more guidance about off-road adventure, please contact our helpline at Enduro Bike Advanture. Further check our latest packages for dune buggies, quad bikes and dirt bikes on service pages.