Buggy Rental Services By EnduroBikeAdvanture
In this blog, we are going to cover the top 3 adventure activities to do in the Dubai desert safari with buggy rental in Dubai. Dubai deserts provides crazy adventure activities for the hardcore tourism lovers. Starting from luxurious 4×4 desert safari in Toyota Landcruiser to rough and tough ride in dune buggy there are many things to enjoy in Dubai deserts.
Why Dubai Desert is best for your next travelling destination?
Dubai is the hot topic for discuss right now because of its sky touching buildings, grand parks, amazing malls, top tier companies headquarters and desert's natural beauty. Dubai offers a vast range of tourism for people all around the globe. But in this blog, we are going to stick around the desert tourism in Dubai.
Although, there are many activities to enjoy in   Dubai Desert Safari, but in this blog, we are going to look at the top three of them. If you have a tight schedule and don't have much time to stay in Dubai, then you can do these three activities to make most of your desert trip.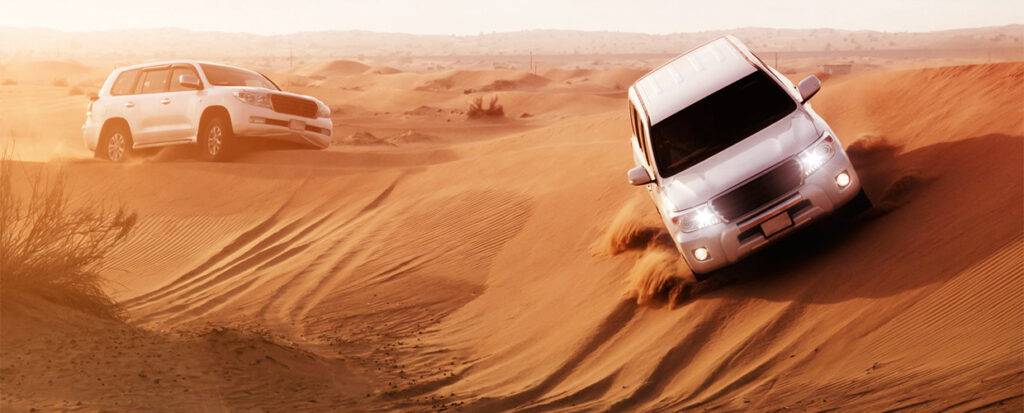 Top activities in Dubai desert safari
First activity which we rated at top of our list is dune bashing with buggy rental in Dubai. Second activity which we are going to discuss in this blog is desert night camping with dinner. Third activity which we are going to discuss is desert morning enjoyment with breakfast in desert.
Activity 1: Dune Buggy Riding With Buggy Rental in Dubai
First and the most thrilling activity to do in Dubai desert is the dune buggy riding. Dune buggy riding is the signature activity of Dubai deserts. The experience of buggy riding which you can get in Dubai is unmatchable. Many of people from all around the world just come to Dubai every year for just buggy riding in the desert. For some people, it is like an adrenaline.
There are a lot of tour services currently operating in Dubai which provide the service of  dune buggy rental in Dubai. However, there are few notable and trusted names which provides the excellent desert safari services. Buggy riding is completely safe activity which is conducted in the presence of experts. There is also a first aid service available to cure the minor injuries. The dune buggy is principally designed to ride in the desert as the name also clears this. Desert safari with service of buggy rental Dubai is a complete package which is available in very affordable rates by travel brands like Enduro Bike Advanture. So, book your tour now and enjoy the crazy adventure of buggy riding in Dubai.
Activity 2: Desert night camping with dinner
Second activity which you can enjoy in Dubai desert is night camping with dinner. It is also very enjoyable activity as the desert become drastically cold at night. So, you enjoy different tastes at a time. When you are planning for desert night camping, make sure to keep the warm clothes with you to keep yourself warm in the night.
Due to the huge number of tourists camping in Dubai deserts in night, there are almost all the basic things available in the desert. So keep the desert camping with dinner in your list for desert trip.
Activity 3: Morning in desert with breakfast
If you are true desert lover, then this activity is made for you. Dubai desert shows its natural views at the morning in the time of sunrise. This is perfect time to sit for few minutes alone and experience the beautiful sun rising.
If you are interested in any of the activity discussed above, feel free to reach us at any time on given contact details…
For More Info Must Read Our Blogs:
https://endurobikeadvanture.com/a-beginners-guide-to-desert-buggy-rental-dubai/