Introduction
Desert safari is one of the most popular adventures carried out in the Dubai Deserts. It includes a lot of activities including desert safari at various times, desert motorbike racing, buggy racing in Dubai desert, and famous camel riding. Each activity has its charm and wide range of adventure for those who dare to enjoy their lives.
In this blog, we have come up with a detailed tour guide to Desert Safari in Dubai. We will cover multiple sections including the introduction of Dubai and the significance of its deserts, popular activities which you can do in your desert safari trip, safety precautions you should take for your desert safari trip, how you can book a desert safari tour and what services Enduro Bike Advanture is offering concerning desert safari in Dubai.
At the end of this blog, there is also a frequently asked questions section which may help you to clear your confusion.
Significance of Dubai and its Deserts
Dubai is the most significant city of the United Arab Emirates and of the most important cities in the whole world. Out of the total 9.9 million population of UAE, 3.3 million people lives in Dubai city. Along with being the business hub of the world, Dubai is also an attraction for tourists from all over the world. The reason which makes Dubai perfect for tourism is its long buildings, shopping malls, parks, and golden deserts. You can witness the most modern architectures to beautiful natural landscapes of charming deserts in Dubai.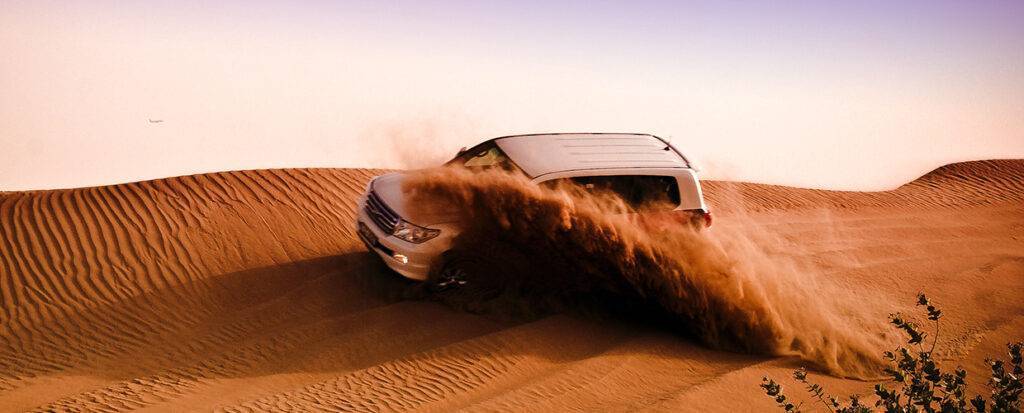 Dubai deserts are considered one of the most attractive nature pieces one can visit. Each desert has its importance and serves a different purpose.
Al Quadra Desert is the closest desert to Dubai. From a drive of one hour from the heart of the city, the desert area starts. It is a popular site for camping among tourists. It is the perfect place to come on the weekend for camping to take a break from your busy routine and spend some quality time with your family.
Sweihan Desert is another famous desert of Dubai which is located between Dubai and Abu Dhabi. Sweihan Desert is popular for the off-roading adventure it offers. Millions of tourists around the globe go for thrilling off-road adventures each year.
Popular Desert Safari Activities in Dubai
There are multiple activities that you can do while your desert safari tour to make your trip even more exciting and memorable. With the thrilling rides bashing dunes, cultural music, and delicious food, you can do a lot of things to enjoy your desert safari. We have made a list of few adventurous activities which you can do to enjoy your trip.
Morning Desert Safari 
Morning desert safari and catching the beautiful sunrise view are the things which you should never miss out on in your tour. In the desert, the sunrise seems more bright and bigger which close to the horizon. It is one of those masterpieces which you will love to capture and enjoy in the desert. Along with the sunrise, the early rays of the sun when falls on the gold sand dunes, present a magnificent view.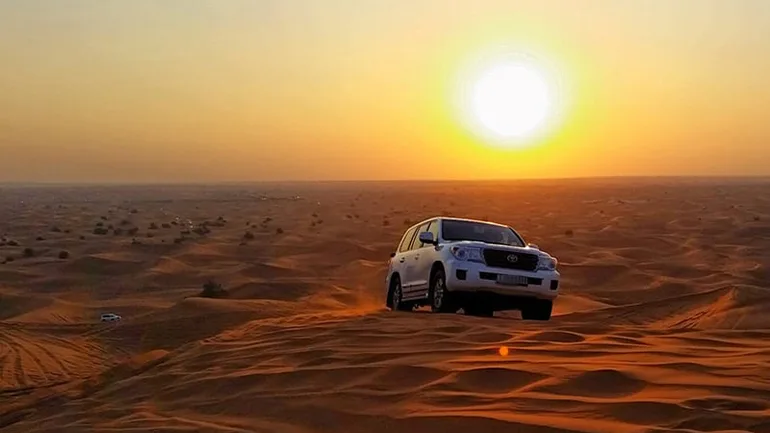 It is one of the best times to witness the amazing desert landscapes to make yourself refresh with the view. Morning desert safari each month is enough to captivate yourself with the charm of the desert and its serenity in a very short time. If you have tough time schedules and cannot have a long evening safari, it's the golden opportunity for you to experience the amazing desert safari in a short time.
Evening Desert Safari
Evening desert safari is the most chosen type of desert safari which tourists want to experience. Evening desert safari starts in the mid-afternoon and ends in the first half of the night. It enables the visitors to experience the charms of Dubai deserts before and after the sunset. Sunset in Dubai desert is one of its kind to enjoy and relax. After the sunset, you can enjoy the camping and dinner or choose to continue your dune bashing.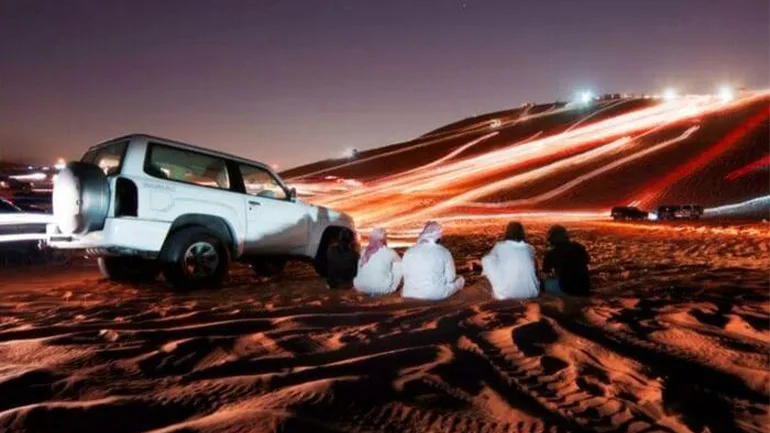 The evening safari tour usually takes from 4 pm to 10 pm. It is recommended at the weekend when you have a whole day to spend and enjoy your life. Evening safari is highly suggested for those who are interested in photography and store the charming landscapes in their cameras. You should give it a try at least one time in your life.
Overnight Desert Safari
Overnight desert safari is the extension of evening safari especially designed for those people who want to spend the night watching the beautiful stars. After a thrilling dune bashing ride, you can relax in the camp or tent and spend the whole night in the desert while enjoying the splendid starry desert experience. In the morning you can also enjoy the beautiful sunrise with breakfast. This package is recommended to those who want to enjoy the sunset as well as sunrise in the desert.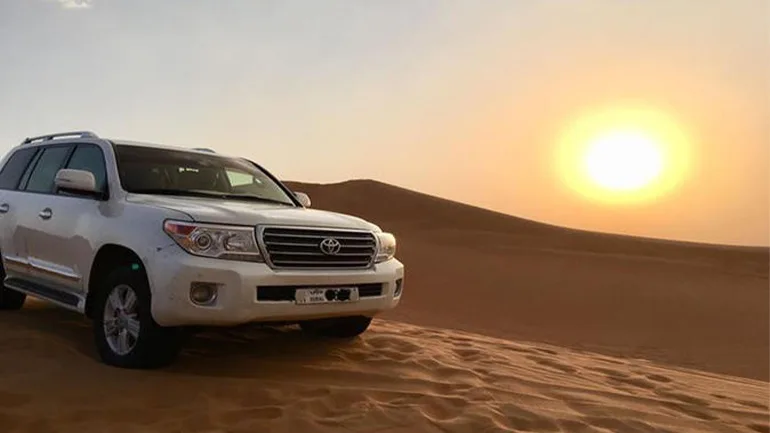 As far as required things are concerned, tour operators will provide you a full-fledged private tent along with a mattress, pillows, and blankets. Do not worry about the washroom and shower services, tour agencies provide remote washroom and shower facilities to make your tour even more convenient. Everything necessary is available so that your desert safari can be comfortable to make your trip fully enjoyable.
Dinner in The Desert
If you are not interested in dune bashing and thrilling rides and want to go straight away to desert camping, this activity is suitable for you. It is specially chosen for the person having health problems, families with young children, pregnant women and elder peoples who want to have quiet experience. Dinner under the charming stars is one of the most favorite activities of the tourists.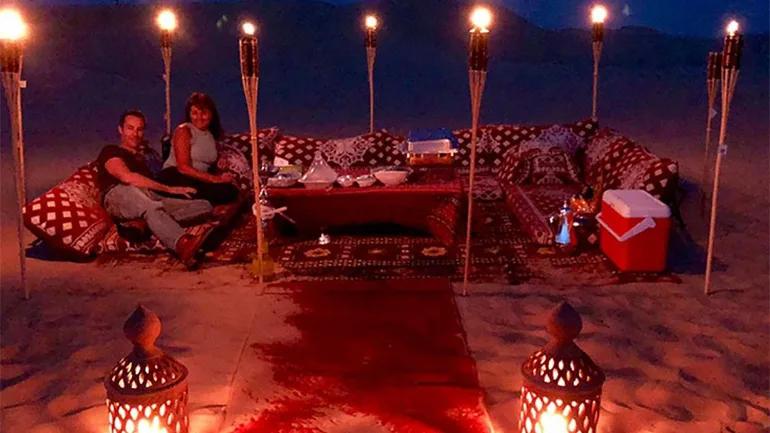 At dinner, you can enjoy veg and non-veg foods as same as five-star hotels in the middle of a desert. The dinner usually contains appetizers, the main course, and a sweet dish at the end. BBQ is the popular food item among all which you will never want to miss. After dinner, you can also enjoy other popular activities like belly dance shows, smoking Arabic shisha/bubble, henna painting, and a fire show. Deserts nights are a lot more to offer to make your trip pleasing.
Dubai Desert Motorbike Racing
Desert safari bike racing is one of the most loved activities which tourist do at the Dubai deserts. In the smooth sand of the desert with a warm breeze, bashing the big rolling sand dunes is a very enjoyable adventure which you should never miss in your desert safari trip. Through Dubai desert motorbike, you can cheer yourself with self-driving.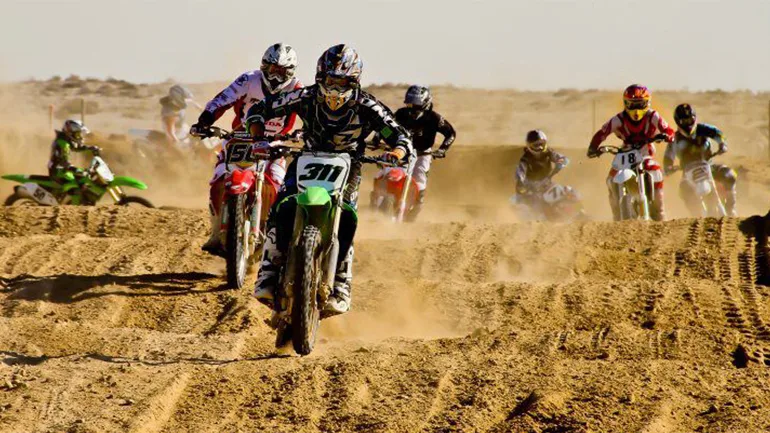 The motorbikes being used in desert safari bike racing are specially made to ride in mud, dirt, snow, and sand which provides you an exciting and smooth journey throughout your race. However, to make your journey even smoother, there are few tips which we are going to cover in the coming sections. You can avail of the motorbikes easily from desert bike rental Dubai services.
Buggy Racing in Dubai Desert
Buggy Racing in Dubai desert is yet another activity that offers an exciting and thrilling adventure that you should never miss at any cost. You can bash the bulky sand dunes by driving your buggy in the desert. No doubt, buggies racing across the Dubai desert is one of the better ways to travel across the majestic Dubai Arabian desert with power. You can rent the buggy easily from Dubai desert buggy rental services. You can pre-book the buggy before going to Dubai by using the booking option of tour agencies' websites.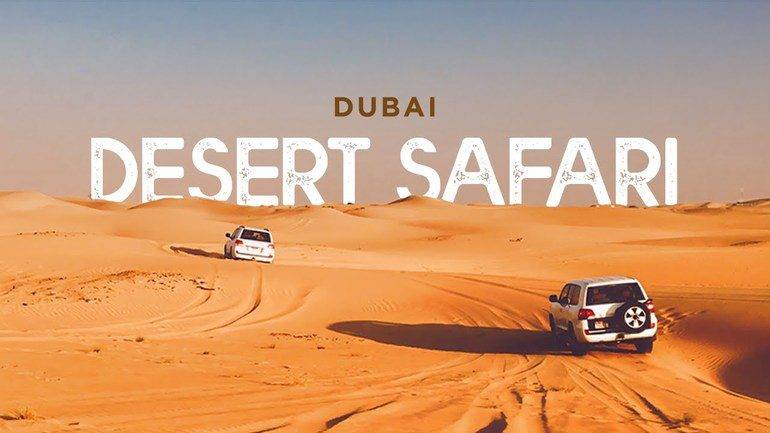 There are different types of buggies available as per your choice to book by various tour operators. A famous type of buggies is a single seater and double seater. Single seater buggy is best if you want to experience this thrilling adventure alone while double seater buggy is suggested if you want to take your family member along with you on this fascinating ride. You can also choose between automatic and manual buggies as per your experience of driving. However, these buggies are very easy to drive even for a person having little experience of driving a vehicle.
Safety Precautions for Desert Safari
In this section, we are going to discuss few necessary precautions which you must take to make your desert safari safe and enjoyable.
Dressing
When It comes to dressing, there is no formal dress code that you need to follow. But it is recommended that you should wear loose clothes in which you feel comfortable. As in the desert, the temperature is sometimes high in the daytime, so wear light clothes that you usually wear in summer. Also keep your winter stuff like socks, jackets, shawls, and gloves along with you as the temperature in the night cools down.
Dune Bashing Precautions
In riding, there are few tips that you can follow to make your activities safe and sound. Please wear the seat belt tights in your vehicle either you are in 4×4, buggy, or motorbike. In case of buggy or motorbike, wear full safety gear including helmet, knee, and chest guards. Before the ride, have some light food that does not disturb your stomach. Because people with a weak stomach may suffer from motion sickness so do not go heavy before the ride in terms of eating.
Listen to the instructions carefully given by your tour guide and follow them strictly while your desert safari tour. Remember, all these instructions are for your safety so follow them properly. While riding yourself, keep yourself on the track guided by your tour operator, keep the headlights on and maintain a safe distance from the next vehicle to avoid any inconvenience.
For the people having some health problems or children and elderly people, it is suggested that they select some light activities like dinner etc. If you have any serious disease or allergy inform the tour operator before the safari. Normally, the tour operators have first aid kits. Feel free to ask them about it otherwise, you can also take your first aid kit along with you. Also, if you are a patient, keep the necessary medicines with you.
Way to Book Desert Safari in Dubai
The most convenient way to book a desert safari trip is through the internet. You can visit the tour operators' websites who are offering their services in Dubai. You can check out the packages they are providing related to desert safari. Remember to read all the inclusions you are getting in the tour package.
After visiting two to three tour agencies' websites make a comparison of the packages and select the package which you like the most. Feel free to go with what you feel comfortable. Reading the people reviews is good but your ultimate decision should be your own. Keep that in mind. Also, we highly suggested going with a known tour company.
Desert Safari Services Offered by Enduro Bike Advanture
Enduro Bike Advanture is a well-known and trustworthy tour agency offering its tour packages in Dubai. It offers a range of desert safari packages and activities we discussed above. They are highly experienced working for a decade providing various desert services along with dune buggy rental and desert bike rental Dubai. You can check their tours and packages on their website and book them easily online.
FAQs
In this section, we are going to cover few frequently asked questions by most of the visitors. Feel free to read all the questions and answers because it may help you to clear out the confusions you have in your mind.
Q1: What is a Desert Safari in Short?
Answer: Desert safari is a tour of the desert in which you can enjoy different activities like dune bashing, desert safari bike racing, buggies racing across the Dubai desert, camel riding, camping, and dinner in the desert.
Q2: Are the Desert Safari Activities like Desert Safari Bike Racing or Buggy Racing in Dubai Desert Safe?
Answer: Yes, the various activities involved in the desert safari are completely safe. They are conducted with full measures to make sure the safety of the tourist.
Q3: How Much Desert Safari Usually Costs?
Answer: The price of the desert safari trip varies along with the different options, but it usually happens at a reasonable cost. Feel free to checkout the prices at https://endurobikeadvanture.com/services/
Q4: Are There Snakes and other Wild Animals in the Desert Safari?
Answer: No, it is completely a myth. There are snakes in the desert but the place where the activities of desert safari are conducted is completely free from any harmful animals.
Q5: What is the Best Time to Do a Desert Safari?
Answer: The best time to do your desert safari trip is between September and February. After February the weather in Dubai starts raising up so it's good to have your tour before Marc