Are you looking for something fun and exciting activity for your vacation? Something safe and thrilling that you can enjoy with your family. Well, we have the perfect thing for you. Why don't you try the dune buggy rental Dubai tour? 
It's a completely safe and family-friendly adventure in Dubai's vast deserts surrounding the city. For newbie riders, there are separate driving lessons and the easiest route they can choose. You will also be provided with safety equipment to ensure no injuries happen. 
As a leading dune buggy rental company in Dubai, if you book a tour with Enduro Bike Advanture, you will get state-of-the-art vehicles, safety equipment, and a dedicated guide. Let's discuss in detail why dune buggy rides are so fun and how to enjoy them fully.
What is Dune Buggy Rental Adventure in Dubai?
Dune buggies are 4×4 vehicles designed to be driven on a desert's rough and sandy surfaces, and Dubai's vast desert is perfect for them. The normal cars we drive on the road are unsuitable for desert terrain. 
Dune buggies come with large tires that provide better traction on the ground and more powerful engines that enable them to be driven in the desert at high speeds in a thrilling manner. Further, they come with roll cages and steel handlebars to provide safety and comfort to the driver. 
Further, there are numerous models for dune buggies, starting with single seater, 2-seater, and 4-seater to accommodate user requirements. 
Nowadays, several tour operators provide tourists and locals with dune buggy rentals to let them enjoy their vacation and have fun, along with several customized packages. Our team at Enduro Bike Adventure is happy to assist you with dune buggy rental Dubai for your desert trip; contact us today for more details.
What Makes Dune Buggy Rental in Dubai so Fun and Exciting?
Now, you might wonder why people consider dune buggy tours an exciting adventure and what has led to its popularity in recent years. Well, here are a few reasons
It Offers an Adrenaline Rush to the User
Taking a dune buggy across the dunes of Dubai is an exhilarating experience. Driving on uneven dunes at high speeds and maneuvering through sharp turns while enjoying the desert scenery makes it even more exciting. Don't forget to click pictures of the scenery and keep it as a reminder to visit again.   
Dune buggy rental Dubai are available in Dubai from several companies catering to novice and experienced riders. Furthermore, a range of dune buggies are available to meet the needs and needs of every individual. You can choose a dune buggy that meets your needs, whether traveling alone or with a group. 
Photography Opportunities 
Dune buggy tours often include stops at scenic viewpoints or landmarks for breaks to energize your body.  Take advantage of these stops for photographic opportunities and capture memorable and fun moments with your loved ones. So bring your camera or charge your mobile fully before hopping on a dune buggy. 
Suitable for People of All Ages 
There are no special skills required to operate a dune buggy. When you ride a dune buggy for the first time at Enduro Bike Adventure, you are given a comprehensive set of instructions for driving the buggy along with safety equipment. If the buggy develops some fault, our guides will contact you throughout the ride to assist you.
Provides a Physical Activity
Dune Buggy rides are physically engaging, and doing such activity can improve your overall health. Physical activity benefits your brain health, weight management, disease prevention, bone and muscle strengthening, and performance in everyday activities, especially on the job.   
Going on a vacation once in a while with your friends and loved ones helps reduce the stress and fatigue you might experience due to your job, business dealings, or personal issues. Plus, the desert environment is very peaceful and calm compared to the noise you experience in the city, which helps to refresh your mind and allows you to think about new ways to deal with your issues.  
Dune Buggies Are Safe to Ride
Dune buggies are safe to ride for everyone. They come with several safety features that protect you from any injury and avoid fatal accidents, such as roll cages that protect you in case the buggy rolls over, handlebars for a tight grip, and oversized tires for better holding on the ground and allow you to drive at high speeds. 
Further, your tour operator will provide safety equipment like protective helmets for your head, gloves for your hands, and goggles to prevent any sand from entering your eyes that might cause an accident.  
Discover Arabian Culture and Traditions
Unlike boring tours to historical places, dune buggy tours offer much greater entertainment. Buggy rides help you to gain a more valuable insight into the culture and history of the Arab world. If you are into history lessons, then dune buggy tours allow you to understand the Arab world better and see how people lived here, how they traded, and their lifestyle. 
Book guided tours so your local guide can teach you better about the region's history.  
Enjoy Dune Buggy Rides on Different Terrains
Dune buggies can be driven on various terrains. If you are a beginner, you can take an easy route with fewer turns to get a good grip on buggy controls. Once you master dune buggy control, you can move to challenging terrain to test your skills. 
Traversing different types of terrain keeps the experience fresh and exciting. 
Many dune buggy tours are led by experienced guides who know the terrain well. Their knowledge and expertise can take you to the best places, keeping you safe and enhancing the fun.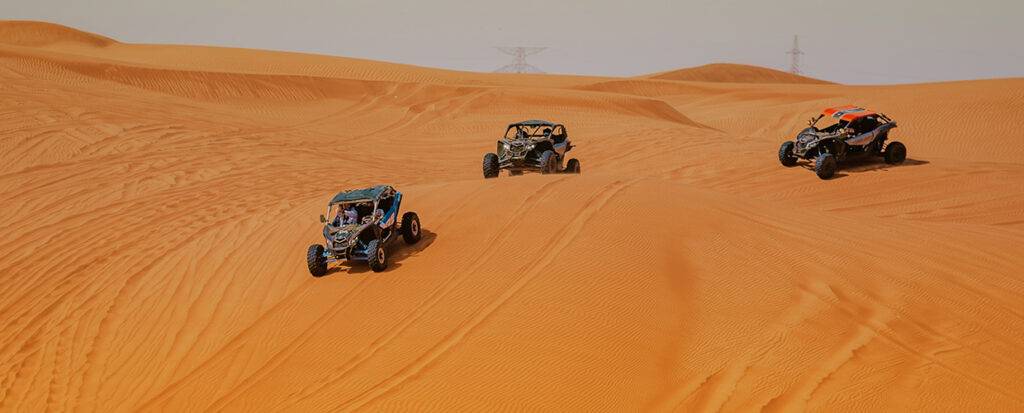 Which Places to Visit on a Dune Buggy Tour To Make it More Exciting
A buggy ride in Dubai is a fun way to explore the delights of the Arabian desert as well as its natural beauty and landmarks. Here is a brief overview of where you can go on your tour. 
Dubai's Lahab Desert is one of the most impressive landscapes in the world. During the day, the red dunes shimmer in the sunlight, standing tall and offering stunning sightlines from their peak. A vast expanse of sandy desert extends to the horizon throughout the desert, creating a sensation of solitude and adventure.
The convenient location of this site makes it a popular destination for camel treks, dune bashing, and sandboarding in the country.
Mleiha is a UNESCO World Heritage Site adjacent to Lahab, home to several archaeological sites of international significance. Finding Bronze Age tombs and fortresses from the pre-Islamic period is possible if you look hard enough.
Among locals, Mleiha is an important hangout spot and is little visited by foreign tourists, as a result of which it has a sensation of being unexplored. With its large expanses of soft sand and the humorously shaped Camel Rock, the desert sits under the shadow of the Jebel Faya mountains.
As you drive through the Mleiha Desert, watch for Fossil Rock. From 25 kilometers away, you can recognize this iconic landform by its distinctive shape. Fossils discovered below ground here tell a fascinating story of marine life in this area when submerged.
Take a trip to the beautiful Al Qudra Lakes if you would like to relax in a tranquil environment and enjoy the natural beauty of desert palm trees. Dune buggy trips are available, where you can drive through the peaceful lakes and observe various bird species as they fly overhead.
Important Tips to Remember to Make Your Dune Buggy Ride Memorable
Undoubtedly, dune buggy rides are fun; you get that now, but to make it more fun and safe, here are five important tips you must remember. 
Comfort is an important consideration when choosing a dune buggy. If you choose a tour that offers quality buggies, it is also important that you dress appropriately.
You should wear clothing you do not mind getting dirty since you will traverse various terrains during the adventure. Alternatively, you may wish to wear a bandana, which can be easily kept during your tour if there is a strong wind. You may wish to cover your mouth if a great deal of dust is present.
It is also common for people to bring sunglasses. It is also advisable to wear safety equipment while on your tour to enjoy your trip safely and comfortably. This equipment consists of a helmet, gloves, knee pads, and goggles to ensure your safety during the ride. 
An adrenaline-pumping dune buggy adventure will take you to different terrains and allow you to better appreciate the stunning Dubai desert. Ensure you refuel before your experience to be energized and in a good mood.
Make sure to drink plenty of water before the experience and have a nutritious breakfast. When you ride, ensure your stomach isn't full and you haven't eaten since you last rode.
Taking a buggy ride on a full stomach may cause nausea because of bumpy rides and your stomach reacting to them.
Take Precautions Against the Sun
Those familiar with Dubai's desert may not be surprised to learn that it is extremely hot there. When we say hot, we mean scorching hot. While it may be tempting to work on your tan, it is also important to remember that you should protect yourself from the sun when going on a dune buggy ride. Without these precautions, you may experience sunburn or even sunstroke. Bring sunscreen and reapply it frequently throughout the day to protect you properly.
It is also advisable to wear sunglasses to reduce the glare entering your eyes. You can also wear a hat for the same purposes. Furthermore, ensure your body is adequately hydrated throughout the tour by drinking plenty of water. Bring your water bottles along with you and refill them along the stops of the tour. 
Before Riding, Inspect Your Buggy For Any Damage 
You should not ride in an unfit buggy. Dune buggy accidents are likely when your vehicle is inappropriate for the terrain. Although many options are available for buggy choices, taking care of your chosen vehicle properly is important.
Testing drives are effective methods of identifying problems related to this issue. A bumpy or unsmooth ride is a sign that your buggy is damaged, and you should ask for a new one from your tour operator. 
However, at Enduro Bike Advanture, we always maintain our buggies in tip-top condition it is unlikely for you to experience any problems. However, you are more than welcome to give it a test drive. 
Enjoy a Desert Buggy Tour in Dubai With a Guide
Choosing a guided tour would be beneficial, especially if you are going on the tour for the first time. The guides can assist you in navigating safely through the desert, as they are familiar with the area. In addition, they ensure all participants follow the same rules, so if you are new to this type of adventure, following someone else is simpler than figuring out where you should position yourself.
The dune buggy rental Dubai adventure is an unforgettable and awesome experience one can enjoy on vacation. So, if you are considering trying something new and unique, you can choose a dune buggy Dubai trip and have the time of your life. 
Consider bringing your friends or family to have maximum fun and create memorable moments.