No matter, if you are an experienced bike rider or you have never experienced bike riding, Enduro Bike Advantures brings the ultimate adventures for you with our amazing range of motorcycle rental Dubai. Do you want to make four vehicles as your companion in exploring the sand beauty of Dubai? Let's explore the breathtaking views of the Arabian Desert with our proficient motorcycle rental services. At Enduro Bike Advanture, we allow you to explore the deep red sands of Dubai with our advance four vehicles.
Don't worry, we deliver you the professional and trained guides who will make your desert Dubai ride memorable, thrilling, and full of fun. We are responsible for your safety and we make sure you complete your tour safely and sound. Your personal professional tour guide will bring you to the top spots of your skill levels. With our rental services of Motorbike Dubai, you will experience unforgettable adventures.
Rent Dubai Desert Motorbike
Biking on-road adventures as compared to other racing vehicles bring lots more fun and explorations with it. Motorbike racing signifies self-sufficiency and liberty. If you want to relish an overwhelming experience of racing with riding then consider Motorcycle rental Dubai from Enduro Bike Advanture. Absorb an amazing riding experience with incredible Dubai desert motorbikes.
If you only like the simple idea of touring the Dubai desert or you are eager to explore the burst of adrenaline, renting a desert Dubai motorbike is the best idea. There is a wide range of high-quality racing motorbikes ranging from 2021 450 EXC KTM bike rent to rent Harley Davidson Dubai motorcycle. Every rider will get an incredible variety of riding services; you will be accompanied by a professional and trained guide throughout your ride.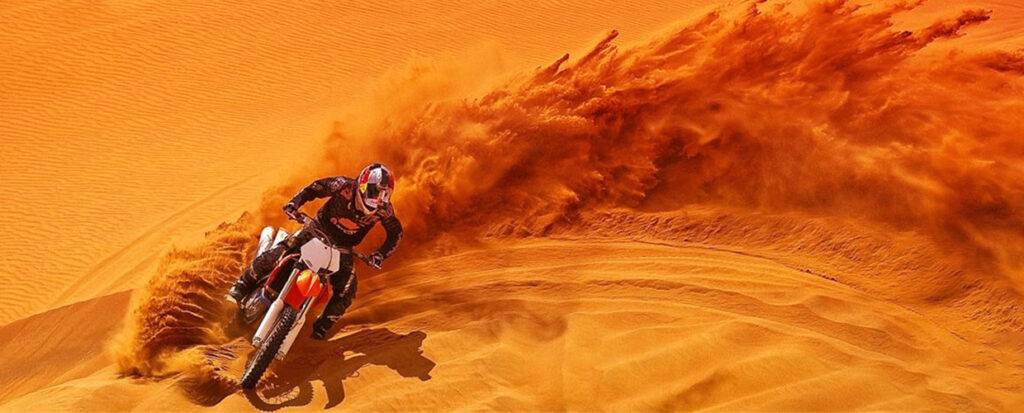 Are you worried about your safety during riding a dirt bike in Dubai? Well with Enduro Bike Advanture, you don't have to be worried because you will get the necessary protective gear and safety equipment. In advance, you will also get insurance coverage in case of any serious injury. But we make sure, you get the most amazing and memorable Dubai desert motorbike experience with our company.
Adventure Dirt Bike Dubai Tour for Beginners
No matter, if you have any biking experience or not, this adventure tour is basically designed for beginners. If you have a fiery desire to experience the thrilling adventure of road riding then this basic beginner tour is best for you. This is a 2-hour package in which you will learn basic knowledge about how to control Dubai desert motorbike. You will go through an orientation of dirt desert Dubai motorcycle, basic controlling knowledge of dirt bike and off-road tips.
Throughout the ride, you will be accompanied by a high-skilled instructor to grow your confidence and enhance your skills.
Advanced Dirt Bike Tour
This is a 4-hour desert Dubai motorbike riding tour for riders who are professional and have off-road riding experience. This advanced motorcycle rental Dubai advanced tour enhances your biking skills. In this package, you will learn how to control a motorbike in sand dunes and dangerously changing conditions in the desert. You will not only get all necessary protective gear but also a trainer for guidance throughout the tour.
Enjoy Customize Desert Dubai Tour
Our company offers you a great opportunity to explore the secrets of the Arabian Desert with Desert Motor Bike Rental. You can get our customize dirt bikes KTM or Harley Davidson to explore the beauty of Dubai desert independently. Don't worry; you will also get safety equipments and protective gear along with a professional instructor.
For further inquiries, feel free to contact our team members of  Enduro Bike Advanture.