Dubai might be famous for its extravagant attractions and jaw-dropping skylines but the golden Arabian Desert remains its first and topmost attraction. Enduro Bike Advanture is here to make the most out of your desert safari tour. If you are looking for thrilling driving and off-road racing experience then our Dubai desert safari deals are best for you to go with. It is time to avail this golden chance and discover more ultimate and new secrets about the golden desert.
We are offering the best desert safari Dubai tour for friends and families. We make sure to provide you optimum comfort, high-featured safety equipment, a chance to ride different vehicles, and truly an unforgettable experience. You can glide deep in the sandy layers of the Arabian Desert and get a chance to take memorable photos. We accompany you with a professional and trained guide who makes sure you are having the best safari Dubai tour of your life. We make sure you are having the best, convenient, and most affordable desert safari tour.
What is the Dubai Desert Safari?
What you should really expect on the Dubai desert safari tour? Desert safari is your only and most thrilling opportunity to dive deep in sand dunes of the Arabian Desert and explore a variety of traditional desert activities such as henna painting, camel riding, quad biking, local entertainment (including belly dancing), authentic flavors of shisha, sandboarding, and tasting authentic cuisines.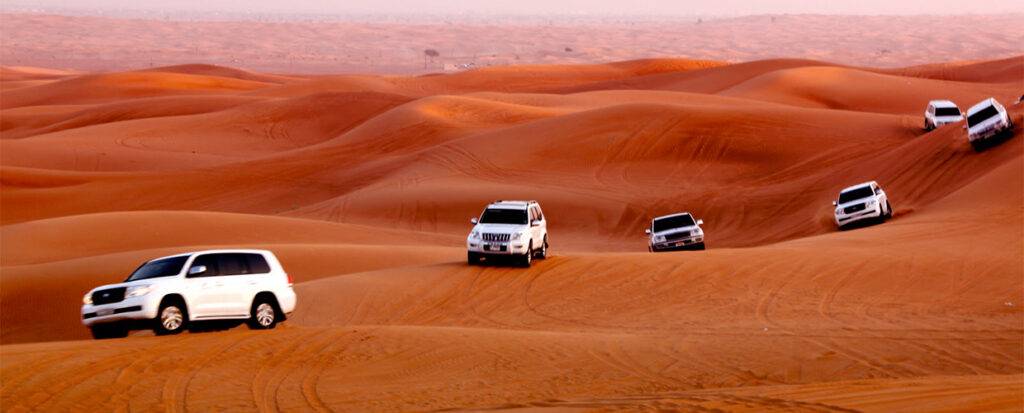 Bring Extreme Thrills in Your Safari Tour
From vast deserts and ancient art platforms to massive shopping malls and sprawling skyscrapers, Dubai is a contemporary and cosmopolitan city. Among all these activities, the most attractive and thrilling thing that attracts tourists in Dubai desert safari deals. What can be more interesting and thrilling than flying a 4*4 vehicle in large dunes of sand? From fat bike riding to dune bashings, sandboarding, and quad riding, these are some thrilling highlights of the best desert safari Dubai tour from Enduro Bike Advanture.
We give you an equal opportunity to explore cultural and meaningful activities of the Arabian Desert such as camel riding and henna painting. From morning visit desert safari tour to evening tours and combo desert safari tour, you will get a variety of options to choose from.
Avail Best Dubai Desert Safari Deals
At Enduro Bike Advanture, we are giving you the golden opportunity to glide deep in the Arabian Desert with our amazing Dubai desert safari tour deals.
1 Hour Desert Safari Tour
Get your hands on 2-seated vehicles and enjoy the thrilling adventure of safari with your friend.
2 Hours Desert Safari Tour
Unlock the chance of getting a 4*4 vehicle and get a memorable experience of the desert safari tour.
4 Hour Desert Safari Tour
Call your group of friends and unleash the deep sand dunes of the Arabian Desert in this 4-hour desert safari deal.
Don't worry, if you are a budget-conscious traveler because you will get a combo option to add other activities and attractions in your Dubai desert Safari tour deals. All these desert safari tour deals from Enduro Bike Advanture will save both your time and money.
How to Book Safari Dubai Tour?
At Enduro Bike Advanture, we make sure to give you the best and memorable Desert Safari Tours. We go through your needs and make sure you will get all security measures for your safari tour.
You will get your hands on an exciting range of vehicles that will make your adventure more thrilling and fun. To book your Desert Safari Dubai Tour, contact our team members.