If you are planning to visit Dubai and looking forward to making a list of adventures, you want to experience then Dubai desert safari Sharjah is the best thing you don't want to miss. Bordered by Oman, Abu Dhabi, and Sharjah, Dubai is the most luxurious and tempting emirates of the UAE. Dubai not only gives a quick escape route to other cities but also gives an amazing topography.
What is Desert Safari Tour?
A Safari trip is the best idea for an excursion in the UAE. Known as dune bashing, Safari is the word that represents driving irregularly in sand terrain. With different Arab delicacies and Henna designing events and entertainment shows, travelers can get the best fun of their trip during safari rides.
Thrilling Adventure of Dubai Desert Safari Tour
Enduro Bike Advanture is one of the popular tour companies in the UAE that offers Dubai desert safari packages with clear commerce concepts, qualified trainers, and popular gadgets. A Safari tour is an ideal trip for those people who love the adrenaline rush and electrifying off-road drives. Safari trips are one the best way to dig into details of the deepest secrets of the Arabian Desert. If you are looking forward to spending a memorable time with your family and friends then a cheap desert safari tour Dubai is perfect for you. On a desert safari tour of Sharjah, you will get an opportunity to get your hands on state art vehicles that are fully equipped with safety gears. Cars use in safari tour is basically design to give you optimum comfort and truly a memorable experience.
Gliding through golden and shiny sand, in a desert safari tour, you will get the chance to capture amazing moments. Driving around the terrain, you can explore special events, cultures, and customs that the Arabian Desert holds.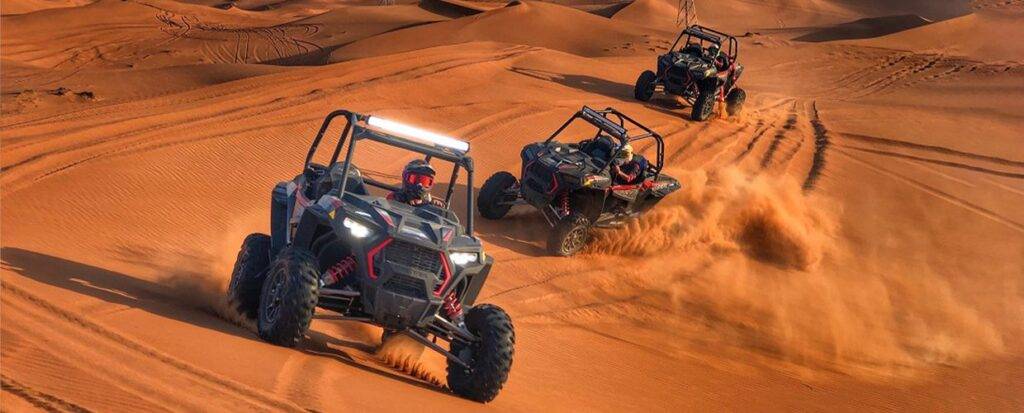 Desert Safari Tour Overview
Enduro Bike Advanture is offering you the most memorable and exceptional Dubai desert safari tour packages. Take a look at a brief overview of the services you will get with a cheap safari Dubai tour.
Pickup & drop-off
According to your schedule, your professional trip advisor/guide will pick you up from your hotel. With the facility of pickup and drop-off, Endure bike event gives you the package of a 4-hour tour. With an experienced driver, get a memorable off-road driving experience for a lifetime.
Dune Bashing
Get your land cruiser for dune bashing during desert safari Sharjah. All 4*4 vehicles from Endure Bike Advanture are air-conditioned, powerful, and large. Equip with all safety measures and equipment, 4*4 vehicles are best for dune bashing during your safari tour.
Get camel ride
It is the best thing about the safari tour. When you reach the middle of the desert, get off from your vehicle and absorb the warmness of golden sand during camel riding.
Enjoy entertainment shows
During your evening safari tour timing, you will get the chance to enjoy different entertainment shows. From singing to dancing and Comedy Theater, there are lots of different things waiting for you.
Welcome drinks
With Enduro Bike Advanture, you will get a heartwarming welcome with varieties of Welcome drinks.
Memorable photography
During your safari Dubai tour, you will get a special break for photography. It is the time when you can capture and lock beautiful views of the sunset and golden sand in your camera.
Quad Biking
Quad biking during your dune bashing session away from the hustle of a commercial city is literally the most mind-blowing thing.
Other entertaining activities
Apart from these, there are many other activities that you will enjoy such as international dinners and buffets, exploring different shisha flavors, falcon holding, photography in Arabic dresses, and many other local things.
Contact the team of Enduro Bike Advanture and book your Dubai desert safari tour package today.